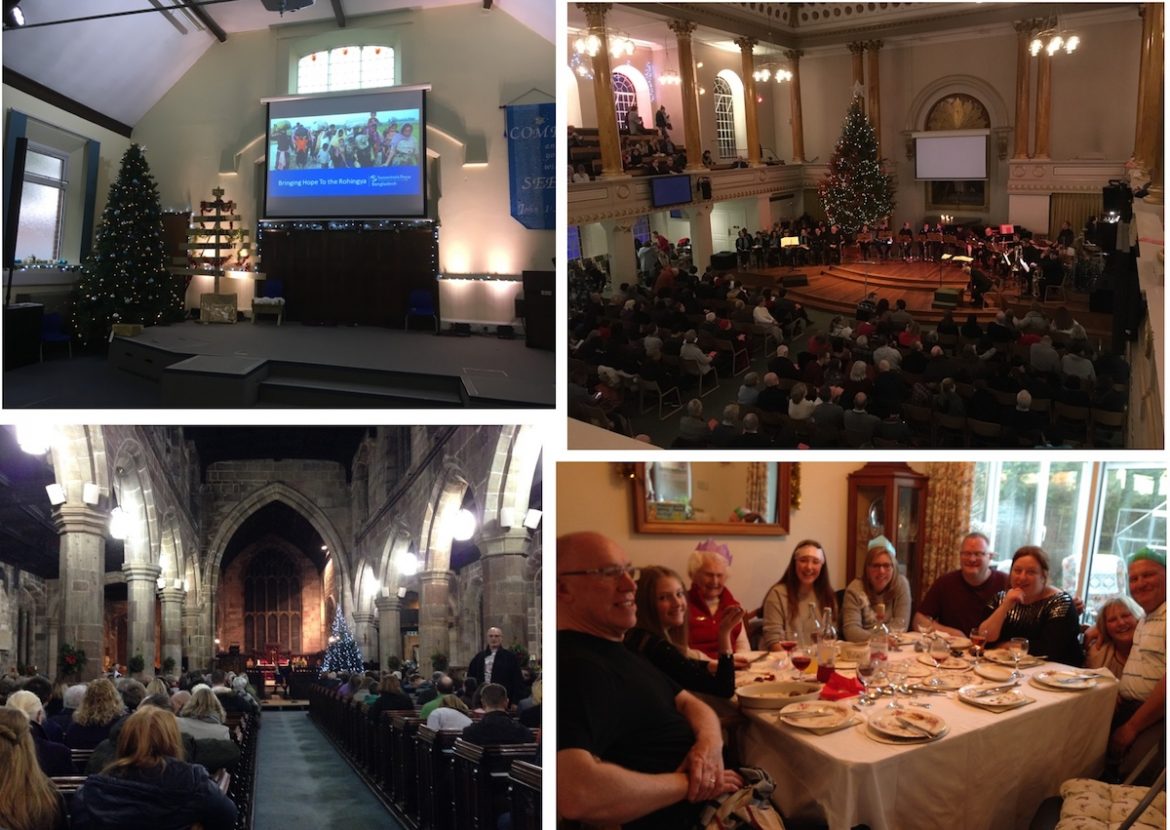 The last days of Advent have been a whirlwind of worship and song, visits and, of course, the last minute food and gift shopping to ensure that visitors over the festive season will be amply fed and watered.
Beginning on the 3rd Sunday of Advent, 17th December, David and I attended the morning service at Flitwick Baptist Church (pictured top left), where our grandchildren Lucy and Daniel were taking part  in a dramatic/musical presentation of the real story behind Christmas.
Travelling into London in the evening we participated in the carol service at All Souls Church at Langham Place (top right). In both places we were warmly welcomed and encouraged to step back from the busyness of life to reflect on the amazing love of God, shown to us through the incarnation and birth of Christ.
On Monday I took the opportunity to get to grips with those necessary household chores whilst David was out doing his volunteer stint on the reception desk at Keech Hospice. Isn't it amazing how much quicker one can 'get on' when one has the house to oneself !!
Following David's hospital visit on Tuesday morning I drove to Cheshire arriving in time to attend the High School Christmas musical event in St Mary's Church Sandbach (bottom left). Emily and Lily were fully taking part with flute, clarinet and voice. It was an excellent concert and I came away feeling very blessed to have such talented young granddaughters.
It has been a good week and somehow seems to have been a lot longer than seven days!
Despite busy roads and traffic jams, the Cheshire side of our family managed to gather together in Nantwich for a pre-Christmas dinner (bottom right) on Saturday before David and I eventually made the journey back to Bedfordshire. Phew!!
I'd like to take this opportunity to wish you all a very blessed and peace-filled Christmas.
With love, Sandra