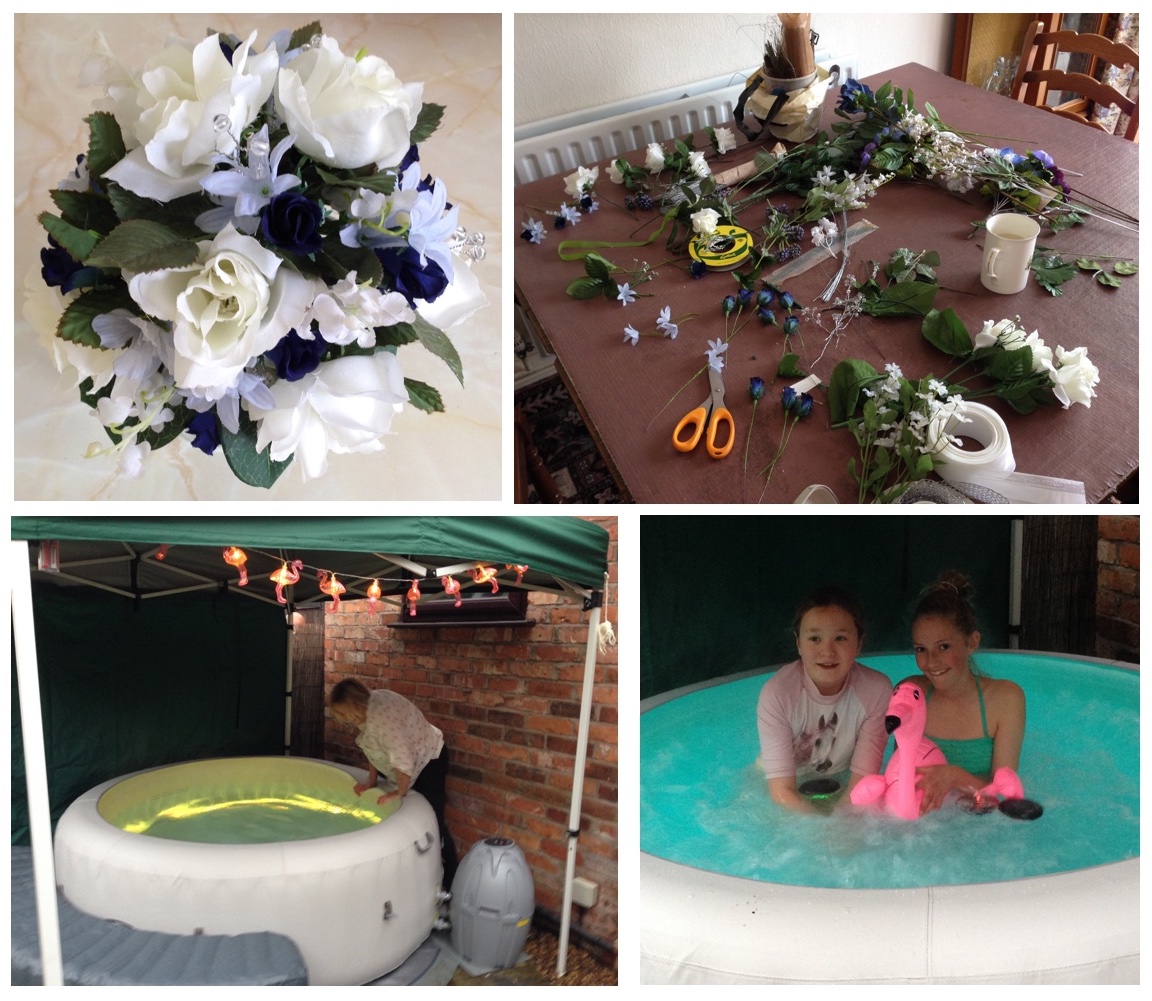 Isn't it amazing how we grandmothers end up getting involved in all manner of things?
The past weekend was a typical example.
Travelling to Cheshire, following the Dalit Theology Day which I mentioned in my last blog, to accompany Mum to an appointment, I settled down to a table strewn with artificial flowers, ribbons and wires, pictured above.
My elder granddaughter Emily has been selected to take on the role of 'Rose Queen' for the Warmingham Village Wakes, an annual event which has raised funds for the local church of St Leonards for many years.
In her role, Emily is expected to travel to similar village events during her year of office,  (just like the President of MWiB) and of course every Rose Queen requires a small bouquet of flowers.  My feeble attempt at a wonderful creation is also pictured above.
Next weekend I get to play with real flowers!
Moving on, last weekend also happened to be my younger granddaughter Lily's 12thbirthday. Ruth had been offered the loan of a 'Hot Tub' for Lily and friends to enjoy as a birthday treat. The 'Hot Tub' was duly installed in the corner of their garden but unfortunately the weather did not co-operate, persistent rain continued throughout the day.
Not to be beaten, arriving at Ruth's for a family buffet, with a gazebo in the back of my car, Emily, Ruth and 'yours truly', following instructions to the letter, carefully erected the aforesaid gazebo. Son-in-law Mark arrived from work in time to help lift this masterpiece over the 'Hot Tub', just in the nick of time as Lily's friends began to arrive.
I wonder what a 'job description' for grandmothers would look like if we pooled all our skills? Maybe it's just to be available and ready to love and help where needed, even just with a word over the phone – what a privilege!
Blessings Sandra