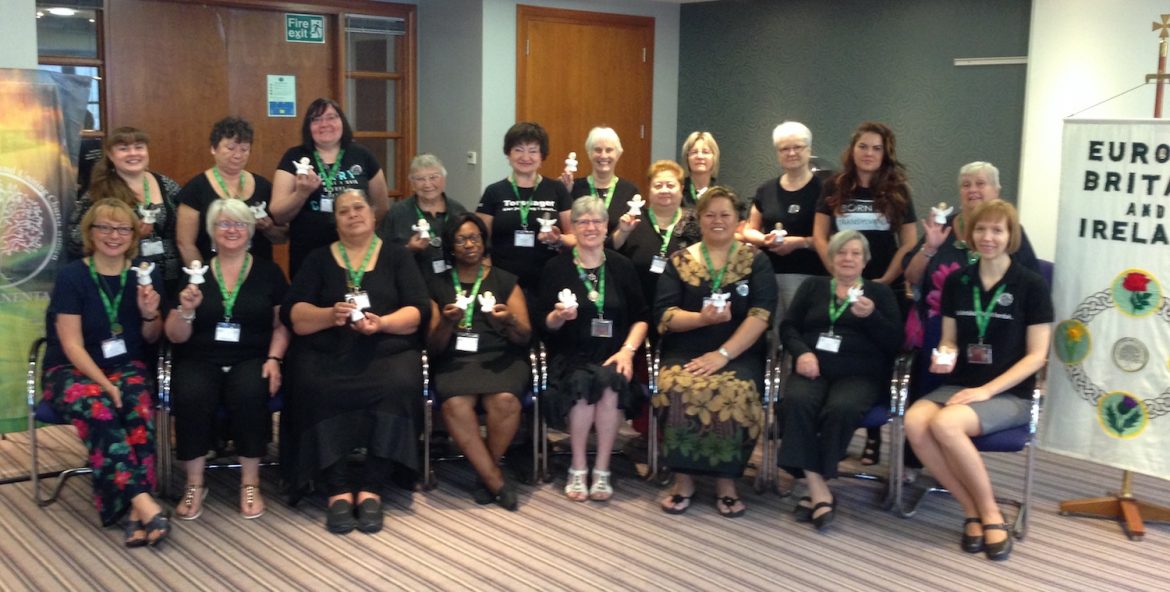 Arriving at the airport in Belfast on Tuesday 5thJune I was very warmly welcomed by Janice and Douglas Walker who kindly transported me to the Clayton Hotel for the 'Weaving Together Program' (WTP)
This Program precedes the Joint European Area Seminar of WFMUCW (World Federation of Methodist and Uniting Church Women) and includes the World Officers, Area Officers and Unit Presidents. We have shared worship and fellowship, learned about the work of many Units across Europe sharing our successes, challenges and thoughts for future working together.
The photo above was taken on Thursday prior to our closing service of Communion. Many of you may be familiar with the campaign 'Thursdays in Black' which started a number of years ago.
The story behind this campaign began in Argentina when during military uprising. Men were removed from their homes and shot leaving behind women and children.
Realising the vulnerability of these women many soldiers returned to the houses to abuse and rape the younger women.
The older Argentinian women staged a silent protest. Dressed in black, they stood together in the centre of the city between the State Parliament building and the Cathedral (symbols of power) protesting against the violence and abuse of their fellow women.
The World Federation took up this protest by wearing black tee-shirts with the protest against violence and abuse of women worldwide printed in white. The words are printed in many different languages and T-shirts worn across the world to stand in solidarity with those suffering violence and abuse.
If wearing the T-shirt is not practical then we have badges which send out the same message.
Where there's a will there's a way!
More news of the Seminar to follow.
Blessings, Sandra