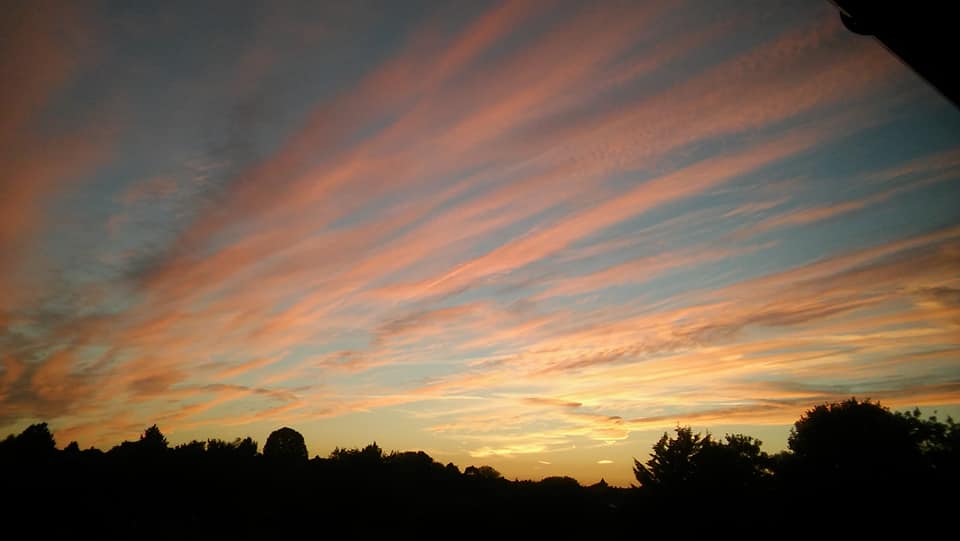 David and I spent a wonderful afternoon this week with the ladies of Toddington Methodist Church, unfortunately as so frequently happens I forgot to take a photo!
All is not lost. We were going to set out immediately after the meeting to head towards Cheshire but driving back to pick up our luggage we crossed a bridge over the M1 and rapidly changed our minds. The northbound carriageway was at a standstill and, according to the 'UK Roads' App on the mobile phone, it was not going to clear until between 7.30 and 8pm.
A quick change of plan and 3 hours later we set off again. This time we were stopped in our tracks by a beautiful sunset – definitely the photo shoot of the day! Cloud formations have always fascinated me but this was a real treat.
We'll spend time with family over the next two days beginning with a 'pear harvesting' session in my mother's garden, ably assisted by 12 year old grand-daughter Lily.
The Conference pears are ready but too hard for my mother to eat raw. All is not lost. Many years ago a cook suggested to Mum that a good way to preserve pears is to peel and slice them, place in a pan with lemonade (the cheapest from the supermarket but not sugar free) bring to the boil, turn off the heat, cool and freeze in the liquid using plastic containers. It works, we have only just finished eating last year's pears!
The beautiful clouds and autumn fruit remind me of one of the harvest hymns which is a great favourite with our younger members:-
'Autumn days when the grass is jewelled
And the silk inside a chestnut shell.
Jetplanes meeting in the air to be refuelled.
All these thing I love so well
 So I mustn't forget, no, I mustn't forget
to say a great big thank you, I mustn't forget.'                          Estelle White(StF 121)
'Thank you Creator God for the beauty of these Autumn days' Amen
Blessings Sandra