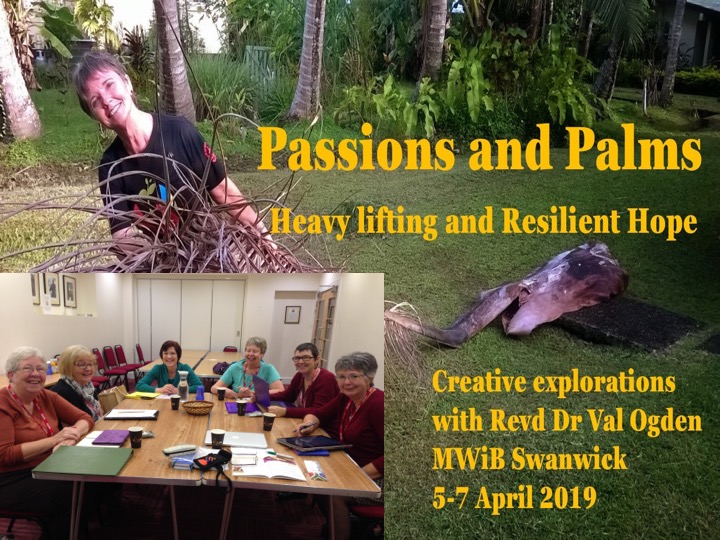 Time flies as we begin to plan for the Swanwick Residential Weekend 2019. Pictured above, alongside Revd Val Ogden who will be our keynote speaker, are members of the planning taskgroup some of whom have been with us for a while and some who have recently joined.
From left to right we have Credwyn Tolhurst – this year's Swanwick Bookings Registrar, Glenys Vere, Jo Richards, Chris Thompson, Jude Simms and Hilary Evans. Lauren Brabbs, a full-time teacher, was unable to join us this time but will be with us in January 2019.
We pooled thoughts and ideas and as we planned we prayed that once again we will help those who attend to enjoy fellowship, friendship and learning together at Swanwick.
Val's theme 'Passions and Palms, Heavy Lifting and Resilient Hope' sounds fascinating. The photograph, taken in Fiji from where Val has recently returned, shows just a little of the damage caused by strong storms and increasing changes in weather patterns in the South Pacific region.
Val now serves in the Boston Methodist Circuit in Lincolnshire, based at the glorious, buzzing, town centre hub of Centenary Church. Using her own words – Val 'loves Word, Sacrament and Pastoral Care, feeling blessed to speak, preach, write, broadcast, facilitate, counsel, teach. train, listen and learn in a whole variety of settings.' Val is fervently ecumenical: 'For God so loved the world'.
Leaving the planning behind me, I travelled north to Manchester Central Hall where it was really good to meet up with old friends and new from the Manchester and Stockport District. We shared worship, fellowship and learning at the Autumn District Celebration.
Having dropped me off at Central Hall my husband David, now free to travel with me and after a very early start, treated himself to a cooked breakfast and was looking forward to an enjoyable lunchtime concert in Manchester Cathedral by pupils of the famous Chetham's School of Music as advertised on the internet. Arriving there in plenty of time he discovered that a Conference was in progress. After making a few enquiries David was directed to Chetham's College only to discover that all the students were on their half term holiday! Oh dear!
My week ended with a lovely cooked breakfast served at Flitwick Methodist Church where I'd been invited to talk to an ecumenical group of ladies about Methodist Women in Britain. We had a wonderful time together – what a pity that David was otherwise engaged and missed a second cooked breakfast!
We're off to Louth in Lincolnshire on Thursday and I'm looking forward to meeting up with many of you in Blackburn on Saturday.
Wishing all who will be travelling this week safe journeys.
Every blessing Sandra