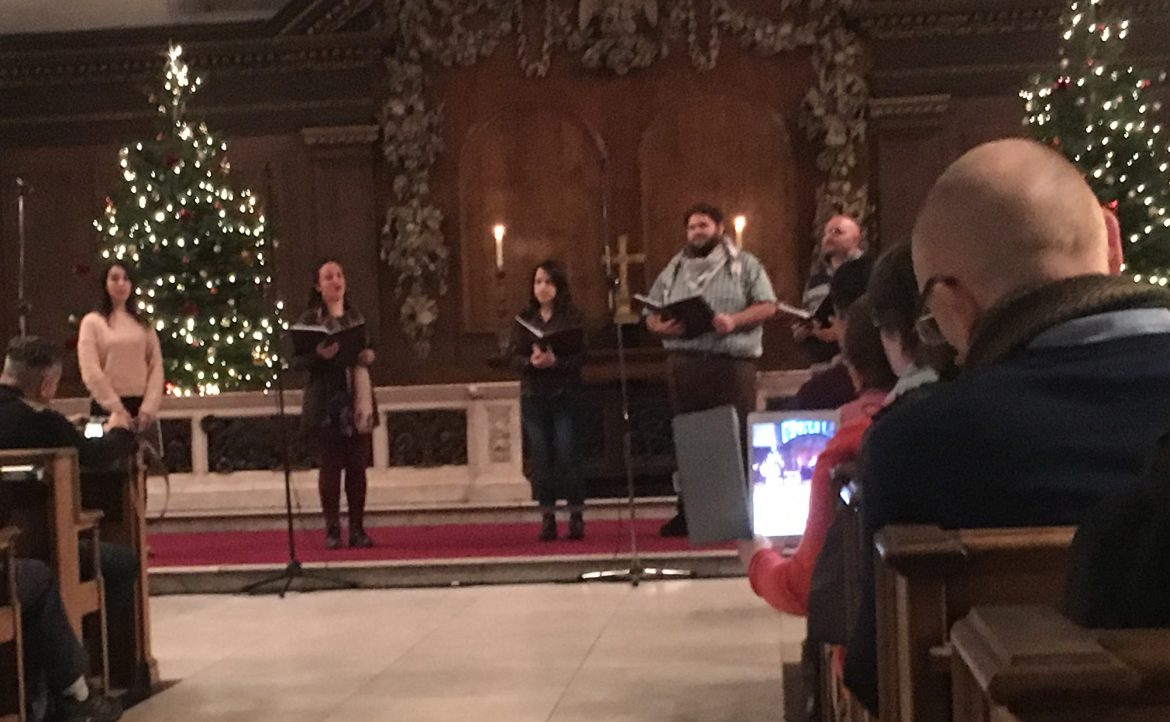 On Sunday David and I travelled in glorious sunshine to Boston in Lincolnshire. En route we stopped in the village of Kirton where, in 'Kirton Cottage' we enjoyed the best Sunday lunch we've had in a long time. Certainly a restaurant we would recommend to anyone visiting the area!
Arriving at Centenary Methodist Church we were greeted warmly and joined the congregation in the welcome service of Rev Dr Val Ogden. Val takes up her ministry in Boston having recently returned from Fiji where she has worked as a Mission Partner for the last seven years. I was offered the opportunity to say a brief welcome on behalf of MWiB and we look forward to April 2019 when Val will be the keynote speaker at our Swanwick Residential weekend.
When David returned from his work at Keech Hospice on Monday, we travelled to St James Church Piccadilly in London to attend the first of a series of Bethlehem Carol Services arranged by Amos Trust. Here we enjoyed the haunting harmonies of six members of The Choir of Bethlehem on their first visit to the UK. The service was led by Chris Rose, Director of Amos Trust with speakers Zoughbi Zoughbi Director of WI'AM the Palestinian Conflict Resolution Center in Bethlehem and Lucy Talgieh, leader of 'peace building with women' in WI'AM and co-worker with SMILE, WI'AM's Christmas Children's Program.
Lucy said 'I love Christmas, when the lights are lit on the tree in Manger Square and we get ready to welcome the King. But, for the children in the camps and those who live in the area by the Wall it's really hard. They have nothing to celebrate' she went on to say ' In January and February it is very cold and wet, houses don't have heating, just calor fires and blankets. there are no tourists, there is no work. It is the most important time of the year for women to come together and for us to listen to them, to see who is suffering and to hear them talk about their life.'
Amos Trust was founded by Garth Hewitt, singer, song writer, priest, author and activist. 'It is a small, creative human rights organisation, committed to challenging injustice, building hope and creating positive change.'   http://amostrust.org
The carol service was prayerful, inspirational and very thought provoking.
"Longing for light, we wait in darkness. Longing for truth, we turn to you.
Make us your own, your holy people, light for the world to see.
Christ, be our light! Shine in our hearts. Shine through the darkness.
Christ, be our light!  Shine in your church gathered today."
StF 706 Bernadette Farrell
Blessings, Sandra