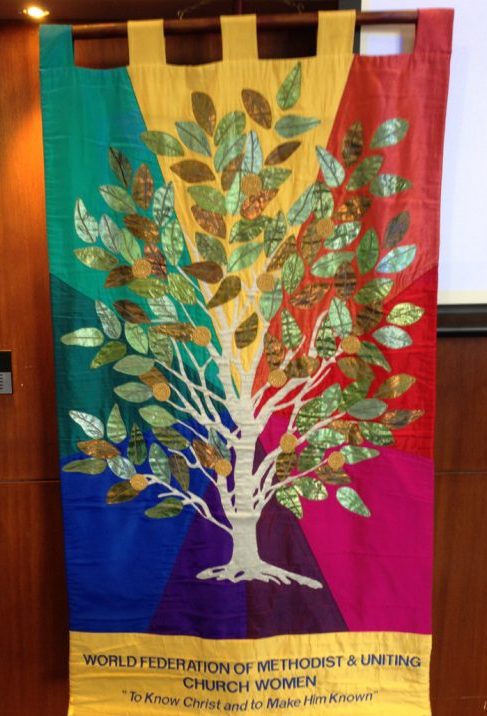 World President Alison Judd writes in celebration of the World Federation's 80th birthday:
I heard recently of a woman who is nearly 80 years of age but still runs over a mile each morning and swims regularly. She is very active in her social life and church work and has no intention of slowing down as she reaches a milestone on her next birthday. Not everyone is able to maintain a physical discipline of this sort, but I know many maintain a disciplined prayer life which energises them for mission. They 'keep fit' for the work God has called them to do, and so continue to 'make Christ known' by the life they lead.
The World Federation of Methodist and Uniting Church Women is celebrating being 80 years of age this year. The original charter was signed in Pasadena, California on 26th October 1939. Since then, women of all ages have prayed, campaigned, evangelised, preached, taught, served, encouraged, enabled and equipped others across the world and in their local communities. These women have made a real difference, they have proclaimed the good news of the gospel of Jesus Christ, and they have borne fruit for the Kingdom. In all of their work, they have been empowered by prayer.
On the 26th October this year, women of this global movement came together in groups large and small to celebrate their 80th anniversary and to learn about some aspect of our work to make the world a safer, better place where women and girls can thrive. In many Units, women used a study resource produced by women of the Europe: Britain and Ireland Area on Sustainable Development Goal 5: Gender Equality. In Braintree and Darlington, Methodist Women in Britain (the British Unit of the World Federation) took a different theme: 'Water for Life, Water of Life' (based on Sustainable Development Goal 6: Clean Water and Sanitation) The theme was chosen following former MWiB President Sandra Goodwin's visit to Bolivia, where she heard stories of the difficulties caused by both climate change and water privatisation. In each of these British locations, the theme was explored though worship, bible study, informative presentations and workshops led by representatives from All We Can, Toilet Twinning, WellFound and The Amos Trust. (A full report of the British Unit events can be found on the MWiB website (www.mwib.org.uk), where you can also download the bible study notes and keynote address information.)
There is still work to be done. I thank God that our Federation includes women of all ages and every skill level, for the world is still waiting for justice and healing and God needs everyone to play their part.  To support us in that endeavour, Federation women use a prayer on the 26th day of each month. It was first used around 1986 but still has the power to unite us and inspire us in God's mission.
The World Federation Prayer:
Creator God, rooted in your loving care,
nurtured through your Son Jesus,
challenged by your Holy Spirit,
we are in the world to bring peace with justice,
reconciliation in love, and hope for all people.
May our lives extend
as the branches of our Tree of Life,
bearing fruit of Unity and Love.
We offer praise and thanksgiving
through our Lord and Saviour Jesus Christ.
Amen
[Written by WFMW Executive Members, 1986-91]
Alison Judd,
World President 2016-2021, World Federation of Methodist and Uniting Church Women.