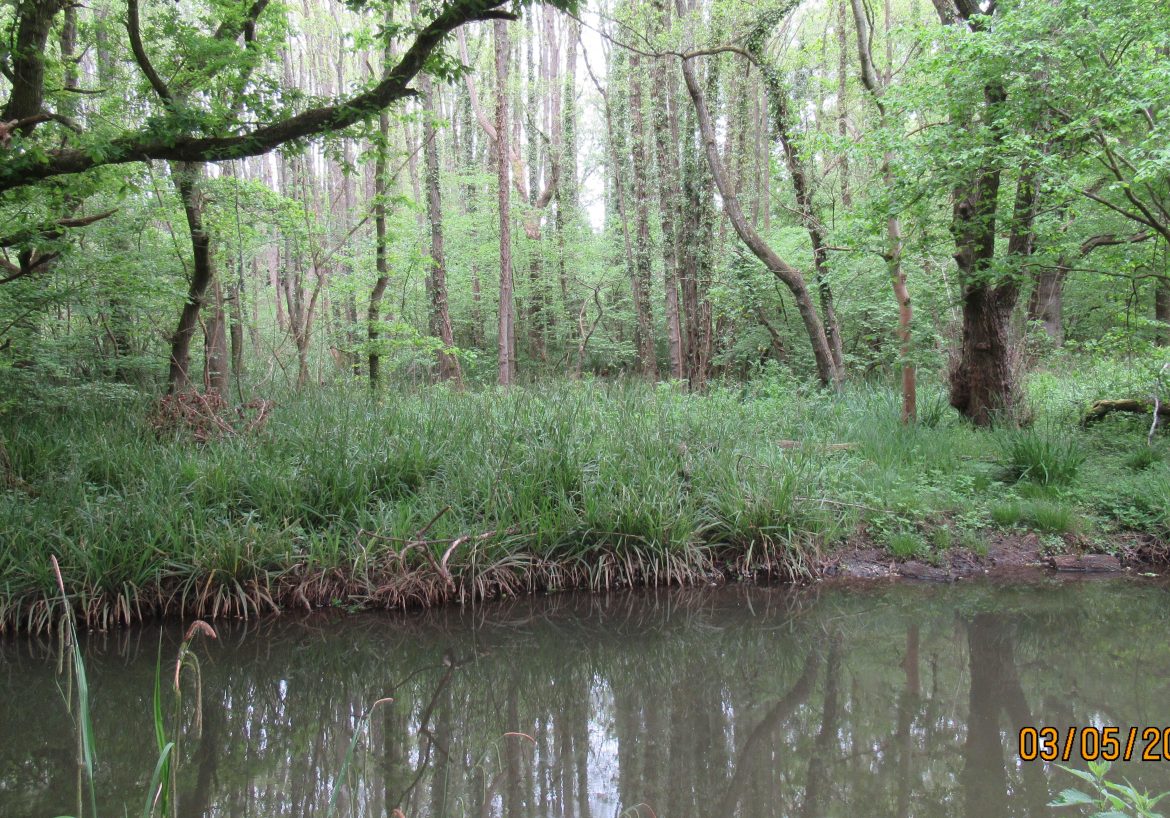 How many weeks have we been confined? I've lost count. Is it seven or eight? I wonder if like me, you find the days and weeks are all rolling into one another as there is less distinction between them. It's not that I'm not busy, there has been a constant stream of task needing thought and attention, as well as a number of online meetings. These have been interspersed with work in the garden and some craft, both of which I enjoy. So, although the list of pending jobs had decreased the list is still full of plenty that has yet to be tackled.
We have not walked every day, but yesterday took ourselves around the nearby water meadows. I took my camera and took a few snaps, one of which was the reflection of trees and plants in the water of the canal. I found myself thinking how much the reflections add to the pleasure of a scene, sometimes almost unrecognisable from the actual objects being reflected, but just a ripple in the water disturbs or even eradicates the picture. This led on to thinking about how much reflective practice many of us have been doing of late. The suddenness of lockdown and the change to the pattern of so many lives, has prompted, even perhaps provoked us, to consider and compare live before, and life during lockdown. It is not just on our habits at home, but on the ways in which we relate to others, the way we contribute to church, to social groups, to business. You may have come across The UK Blessing sung by people from various churches and put together in a virtual choir. It seems to have touched a chord [sorry about the pun]. You can find it on YouTube. It's interesting to see who is singing, as well as listening. I hope it uplifts you.
In a relatively short time, online committees and social groups have filled gaps and enabled a continuation of many necessities and interests. They serve a purpose and there will be questions no doubt about the place of these interactions once lockdown starts to lift. Perhaps we will attend services, still having a streamed element as a feature of the future as well as attending church. We are told that one in four people in this country has keyed into a church service in recent weeks. A significant proportion of these people are between 18 and 30 and have never been to a church service. That's quite a statistic! Requests for prayer have also risen with the majority being linked to the ongoing crisis and concern for the support services and their friend and families.
For many then life is feeling quite fragile – a bit like the reflection that is so easily disturbed, and sometimes short lived. There are many unanswered questions at present. It is very challenging to make definite plans about anything until we have more information to work from. How do any of us work out future priorities for ourselves and the organisations we belong to, never mind the larger community priorities. No doubt there will be much debate about the economy versus the need to adjust our lives to look after the planet's finite resources. We need to prepare ourselves for those conversations and use this time of reflection to work out what are the most important issues, and how as Christians we respond.