In December 2018 the snowdrops showed white early. Snowdrops are one of the treasures of the winter garden. Always we need to take time to look for the gift awaiting us, whatever it may be. I wonder what it is for you on dark and wintry days? The following year would be hard for us and would teach our whole family to treasure the time we shared together.
How many of us have only memories
of those pre-Christmas, Advent days,
when hurried, scurried, harried
the days sped past so fast
we dared not count them?
Yet, pausing to reflect,
when early years have past,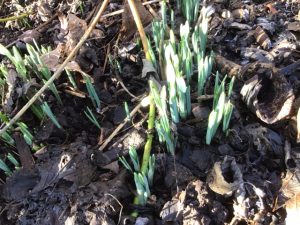 our memories of little faces,
(our own or other people's children)
sparkling eyes, excited voices;
of funny stories, some disasters,
Christmas Eve and Christmas Day
seem now like glowing treasures.
The cards written, the presents wrapped,
The food prepared awaiting cooking,
TIME,
if we pause in the early hours of Christmas Day,
stands still.
We hear the cry of the baby
in the still air of imagination,
we reach into the past to be with Mary
to empathise with Joseph,
struggling to sort out the mystery of birth.
Perhaps our own babies have cried
as we paused,
or we remember the birth itself,
our own Christmas Day newborn gift.
Perhaps, as aunts or as uncles,
grandparents, or maybe neighbour,
we remember.
Looking back, those who are older
tell those who are younger to treasure
the fraught hours, the rush and the worry,
to treasure what is fleeting –
to pause and to listen.
And yet, should we choose, it remains,
forever replayed in the Incarnation
the story retold of the Birth of the Christ.
Welcome Baby Jesus, once again this Christmas Day.