To give you a future with hope
I am Sara Hanselmann from the Swiss World Day of Prayer Committee. Now you are probably asking yourself, why a Swiss woman writes a reflection for Methodist Women in Britain? Through our project work on the occasion of the World Day of Prayer 2022, we came into contact with Ruth Parrott. We are pleased to be invited to contribute to the anniversary project.
Informed Prayer; Prayerful Action
Both are very important to us as a worldwide ecumenical solidarity movement of women and give us a future with hope. We listen to God's word together and are united in prayer. With the collection, women worldwide are supported and strengthened, a solidarity network is established.
This enables the women to break chains and open doors as in the World Day of Prayer 2022 textile artwork. To be on a path over which the rainbow and the dove of peace float. All symbols for peace. We all long for peace. But these days, world peace is more fragile than ever.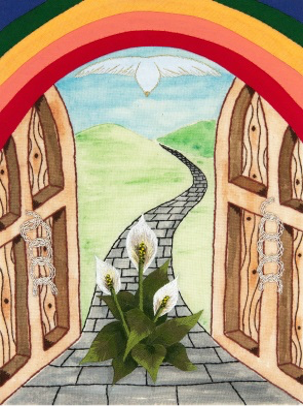 Where can I make a small contribution to a more peaceful world?
How do I succeed in promoting peaceful coexistence in my environment?
What about my inner peace? Where do I find it?
Am I taking care of it?
Copyright © 2020 WDPIC
We unite in a common prayer:
God, I pray for peace for this day.
Sharpen our consciences for the commitment to reconciliation.
Let us speak the truth and not make lazy compromises.
Make us critical of bossiness and the sense of superiority.
Give politicians a sense of proportion and the courage to stop violence and war. Overcome racism and nationalism.
And do not allow any human being to become a victim of human beings.
Amen.
«Minuten am Morgen» DKV München