Week 3 sees us continuing to seek God's guidance as we journey with Him through this year.  Have we finally given up on that New Year's resolution? Or are we still persevering through gritted teeth.  What is God saying to us this week?
'There is a time to mourn and a time to dance'
We celebrate Candlemas on the 2nd February when Jesus was taken to the Temple by Mary and Joseph and had a very interesting experience with a couple of older folk who were constantly in the Temple themselves.  Anna and Simeon were blessed by this encounter although it left Mary unsettled.  We don't know what Joseph thought about all this.  Is God about to unsettle us during this coming week?
We know of older folk in our churches and chapels who appear to have always been there and we need to acknowledge their faith and their commitment to serving God right where they live.  They have seen many changes in the church and in society over their long years and continue to be a source of inspiration.
It is good to know that we know have Messy Vintage as well as Messy Church (well, at least they do in Shetland)
We pray this week for our older folk in the churches and for those who are now housebound and no longer able to join with us for worship.  Some continue to maintain a prayerful watchfulness over our churches and we all need to remember their faithfulness, especially those of us who are actively involved in the daily life of the church.
We pray for those older folk who were part of Women's Work, Women's Fellowship and Network and are now part of the Methodist Women in Britain
We pray for our Chaplains and Ministers and Deacons, our Class Leaders and Society Stewards and for all who make sure the life of the church goes on in the areas we live in.
We pray for our continuing journey with God across all the age groups we encounter this week
The hosts of God encamp around
The dwelling of the just
Deliverance He affords to all
Who on His succour trust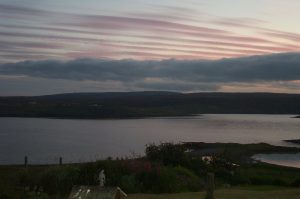 Summer – a time when it never really gets dark in Shetland.  There is the half light even in the early hours of the morning