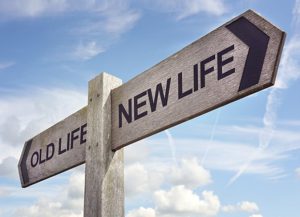 Reading John 3: 1- 17
As we step into the second Sunday of Lent, many of us are reflecting on our current journeys, and perhaps where or how we might change or step up to something new.
Having read John 3: 1 – 17 we reflect on the struggles of Nicodemus as he tries to make sense of Jesus' commands to be reborn. Nicodemus takes this literally, where Jesus explains the rebirth in the Holy Spirit so that we can access the Kingdom of Heaven.
In the meditation below, written by Paul Glass and accessed via Methodists Online (facebook), we hear the story from the point of view of the woman in Nicodemus' life. How she worries about him, out in the night, how Nicodemus struggles with what he has heard, on his return and hoping he's right.
Sometimes I wonder as women of 2023, how we would have reacted to Jesus stood in front of us?
Meditation   written by Paul Glass, Methodists Online Fb
I knew that something was wrong when he came back in the small hours of the morning. He's more of a morning person than a night owl anyway and why he had to go skulking around the streets in the middle of the night is beyond me.
I told him not to go. 'Nicodemus' I said, 'it's dangerous out there at this time of night. Who knows what lurks down those dark alleys. And the Roman soldiers – all you need is to come across a couple who've had too much wine and you could be in real trouble. They've got swords for goodness sake. Only last week they attacked someone under cover of darkness because they took against him.' But he had his mind set on it.
He came across this Jesus some time ago now and ever since that first meeting he's not been able to get him out of his head. I think it's a combination of who he is and the things he says. Well, he is a very charismatic speaker. Not shouty or excited, just quiet and gentle with a sense that these words, these thoughts, are crucial to life and faith. You can tell when Nicodemus is thinking about him. He gets all quiet and pensive. You can be trying to have a conversation with him and it's like he's somewhere else completely. He's clearly been struggling. Wondering what to do. I think he's secretly attracted by what Jesus says. He's certainly fascinated.
He said, 'Ruth, I have to go and see him. I need to know more…understand more.' I told him it was a bad idea. What if others in the synagogue saw him? It could mean big trouble. It was then that he hatched the plan to go at night.
He's just got back. And I don't know what to tell you. He's pacing backwards and forwards muttering to himself, shaking his head. Every now and then I'll catch some of the words. 'Born again'. He'll say, 'what on earth? How?' And then he'll go back to pacing and shaking his head some more.
Whatever Jesus has said to him in this night-time conversation has got him bewildered and Nicodemus is like a dog with a bone. Pose him a problem and he won't rest until he's figured it out in his head.
I'm worried. If he takes this further, I don't know where it will lead. We're people of position…a certain amount of authority. I can see all of that disappearing overnight. I don't mind that so much…I just hope he's right.
Loving Lord
You have told us of the heavenly banquet prepared for us.
Help us to walk the path, here on earth, reborn in the Holy Spirit.
Help us to humbly put our trust in You, to walk alongside those who need our care, our understanding and our love.
Help us to love others as you love us, sharing the good news with all.
Be with us as we look to live more humble lives, in the service of others.
We bring before you all those who live in pain and sorrow,
who have lost their way in this world,
who are bereaved and mourn,
who have suffered due to flood, earthquake, war or conflict
who feel desperate and alone.
Bring hope to the hopeless and peace to all.
Amen