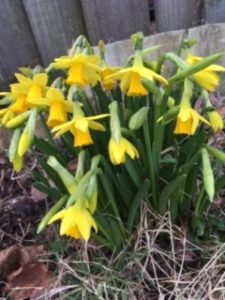 This Sunday is the First Sunday in Lent, a time to consider the time Jesus spent in the desert – time spent in prayerful contemplation at the start of his ministry.
This contemplation was marked at the end by three temptations – to satisfy his hunger; to obtain power; and to put God to the test.
Jesus resisted each temptation by quoting scripture.
Many of us mark Lent by trying to spend more time reading Scripture and in prayerful contemplation – and there are many Lent books available to help us.
Indeed here on our website you will find some helpful Lent reflections prepared by Hilary Evans which echo the themes in this years Easter Offering service.
This week also marks St David's Day on 1st March and on 3rd March the opportunity to join with people all around the UK and worldwide in the World Day of Prayer service, this year prepared by the women of Taiwan. More opportunities for prayerful contemplation and reading scripture.
St David, the patron saint of Wales, is known for his last words to his followers: "Be joyful, keep the faith, do the little things you have seen me do".
This seems to be good advice to follow during Lent.
Lord Jesus Christ, as we seek to spend more time with you this Lent 
help us, inspired by the words of St David, 
to be joyful, to keep the faith
and to show our love for you in the way we live our lives and seek to help others.
Amen.