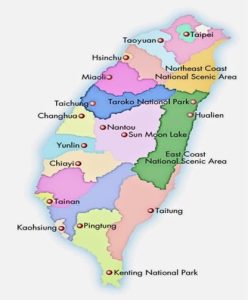 How much do you know about Taiwan? I am a keen quizzer and play regularly with a group of friends at a local quiz night but in all honesty I would have admit that I know very little if it should come up in the questions.
This years World Day of Prayer  material was prepared by women in Taiwan and gives a wonderful insight into this incredible country and to the faith and resilience of its people. Finding out about the hopes and aspirations of women in other countries can be the basis of honest understanding and developing relationships that enriches us all.
Supporting the service material this year is some amazing artwork by a young Taiwanese artist  Hui HSIAO who integrates sacred symbols into her work as an expression of her faith. It is the sort of artwork where you can discover something new each time you look at it.
The theme for this year is based on these words from Ephesians 5 v 8-9
"For once you were in darkness but now in the Lord you are in Light.  Live as children of Light..for the fruit of the light is found in all that is good and right and true."
I also discovered this lovely Taiwanese phrase "Ping-an" which means "May God grant you a peaceful relationship with God and one another". May God indeed be in our relationships wherever we find ourselves …even in a quiz team.