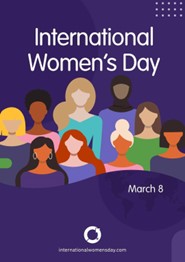 John 4: 5 – 42
Last Wednesday was International Women's Day, where we celebrate women everywhere.
We celebrate all the women who have striven against the odds so that we can live better lives, those who have broken through the glass ceiling so our daughters may live in equality in their professional lives; those who have stood, at great cost to themselves, to speak out in the cultures they live providing the way forward for girls to have an education; to those who have waved their anonymity to improve the processes for women to stand against their accusers; to those who brave society to look as they wish, wear what they feel comfortable, to be exactly who they are.
Jesus chose women to portray some of the most poignant events of his ministry; the woman at the well being the first He discloses that He is the Messiah, Martha being the first to recognise Him as the Son of God and Mary Magdalene the first to proclaim His resurrection.
In the passage John 4: 5 – 42 Jesus choses a Samaritan woman as the first person to bring others to believe in Him. This women, with five husbands, who didn't marry the last, who was probably seen by her own community as promiscuous, and by the Jewish community as unclean, and yet He chose her. They have a long conversation where she recognises Him as teacher and askes Him pointed and intelligent questions, grasps the importance of what He is saying and compassionately demonstrates her ability to be an effective missionary to her own people, who believed even before they had heard from Jesus. How amazing would it be to sit by the well, eating lunch with Jesus!
This week we give thanks for women, and those who identify as women, everywhere.
Loving Lord
We give thanks for women, and those who identify as women everywhere.
For those across the centuries who have paved the way for us to be equal and included. For those who have stood against inequality, exclusion, and injustice against women everywhere.
We pray for those women who struggle due to oppression, who cannot wear what they please, or work where they dream, or even access education.
We pray for those who are hungry, cold and afraid.
We pray for those who strive for a better life for the women of their communities.
We pray for women everywhere to be free to make the choices they wish to make, to dream the dreams of the free and to live out their dreams in love, live and faith.
Loving Lord we ask all these in the name of Jesus Christ
Amen.