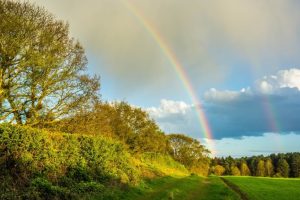 Maggie Woods co-chair blog
What a weekend I had!  I joined the Essex Beds and Herts District weekend at High Leigh recently and came away feeling very positive and energised. The theme was "Who put the colour in the rainbow" and wonderfully led by Esther Hume.
There was fun and fellowship with exploration and reflection throughout. But what really impressed me was the buzz of old friends meeting up after a long gap and the excitement of meeting and connecting with new friends. News, both happy and sad, was shared as people met up for meals and walks. Where covid had pushed people back into a wilderness like experience this gathering acted as an oasis of coming together and a chance to look to the future. Ideas were exchanged and plans formulated to take the work of MWiB forward in a positive way.
Restructuring any organisation brings both challenges and opportunity and I was pleased to hear of creative ways that people felt they could re-connect in their areas through their trustees and ambassadors.
Luke 6 46-49 compares wise and foolish builders and the importance of having a solid foundation, a rock, to build on. Like many organisations we were buffeted by Covid but not overwhelmed. Methodist Women in Britain has a firm foundation in Christ and is going forward in that confidence as we make Christ known in our networking with others.