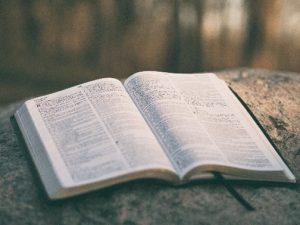 Week beginning April 29th
The Message John 20:30 – 31  {last verse} '.Jesus provided far more God revealing signs than are written down in this book. These are written down so you will believe that Jesus is the Messiah, the Son of God, and in the act of believing, have real and eternal life in the way he personally revealed it.'
Does that verse make you curious? We learn a little more from each of the gospel writers about Jesus' earthly life, but this verse suggests that there was much more that was not recorded. I wonder whether our views would be changed or strengthened if we had more information. Does having a volume of knowledge make a difference? Would you like more stories, accounts of healing, and descriptions of people and places?
One could argue that we have enough to make an assessment about Jesus and his claims to be God's son. His short ministry made a significant impact on humankind, after all his story still generates considerable study and discussion more than 2000 years after he lived. The verse can also remind us that however much knowledge we acquire, we can never have full knowledge, so we must be open to new revelations and willing to consider how they affect what we already know. Are we always ready to reconsider our ideas and adapt our thoughts, beliefs, and actions when discoveries are made and proven? Consider the revelations about our climate and the messages of scientists that warn us of significant changes to our environment. Yet their knowledge is being resisted or ignored, and the necessary adaptations to our ways of life are slow to be implemented.
Prayer
God of action and creation, help us to realise and acknowledge that there is always more to discover about you, and about your creation. You reveal your creation to us in the world around us, but also through the work of researchers and observers. Make us open to learn, to hear about new discoveries, to be alert to changes which may alter our perceptions, to be willing to consider, and reconsider what we think we know. Keep us curious, please, and help us to understand that much of our lives is transitory, but that you are a constant through whatever changes we may encounter. The life of Jesus gives us exemplary guidance about how we should live. Strengthen our belief and guide us through our lives to be steadfast in following Christ's example as we continue to learn more and more.