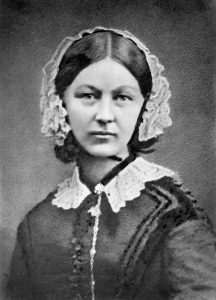 Pioneering Women in Health Care
Week 4
Florence Nightingale will always be remembered as The Lady of the Lamp but becoming a nurse was not part of her expected life plan.
She was expected to marry well and enjoy a gentrified life but she felt a call from God to persue a career in nursing at a time when nursing was not considered a respectable career. She overcame many objections and obstacles to find a role as a volunteer nurse at a Lutheran Community in Germany and later at the Scutari Hospital during the war in Crimea. Her presence was not well received initially but by using her skills as a statistician proved to the military leaders that the involvement of the nurses reduced the death rate among injured soldiers by two thirds. Later she established the Nightingale Training school for nurses and succeeded is establishing as an honourable profession. Her vision continues to influence nursing practice today.
In 1 Corinthians 9 25-26 tells us that the race before us  will require faith, stamina, commitment and discipline which Florence mirrored in the training of her nurses.
So we pray for managers and statisticians involved in the forward planning of our communities. We pray for modern matrons and district midwives We pray for budget setters and all involved in making challenging decisions that affect our communities. We pray for those working in national or local government, charities and community projects.