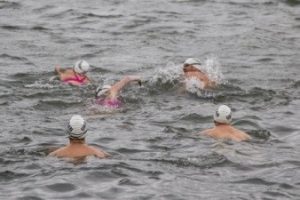 Mermaids     Maggie Woods Co chair South
A few weeks ago I met a mermaid on the beach near where I live. This was not a traditional mermaid, however ,with a harp and a fish tail but one wearing a wetsuit and a warm hat. This mermaid was part of a wild swimming group raising awareness and campaigning about the pollution in our rivers. They swim for twelve months of the year whenever the tide is high. They want the water safety  in our local river to be checked for safety on a regular basis for everyone's benefit. I am full of admiration for them  but I do not think I would be applying to join them any time soon for three very good reasons. I am not a strong swimmer, I don't like the cold and only get up really early in an emergency so it would not play to my strengths.
But meeting her challenged me.  So if I am not cut out to be a mermaid what part can I play in challenging the damage done to our environment by pollution.
It is well known that untreated sewage pumped  into our rivers can make people sick but are we aware of what our water companies are doing to monitor this. Nitrogen and phosphates from fertilizers get washed down from fields, gardens and storm drains…do I know about what is being used locally on the land?
Do I raise awareness  when talking to others about what is getting flushed down the loo? Wet wipes, oils and solvents are often disposed of in this way with harmful effect. Have I checked the cleaning products am I using to see if they are environmentally safe? How up to date am I on environmental issues.
Even if I am not cut out to be a mermaid I feel as a Christian there are things I can do and should do. The hymn writer Fred Pratt Green pointed out that God in his love for us lent us this planet. Being a good steward is not always easy but a challenge we need to embrace the best way we can.