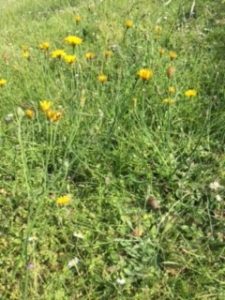 Prayer for the Week 3rd June
With the weather being so lovely currently I have been spending time in the garden as well as watching the coverage from The Chelsea Flower Show. I also left part of my lawn to grow during no mow May and have been amazed at the variety of flowers and grasses – and the bees and birds appear very grateful.
A very old book on my bookshelf – a gift to my mother in 1936 – is called 'The Lovely Garden' by Ethel Fairmont. It is a story for children, very much of its era, but has as its  message the following verse:
In your garden scatter seeds
Of loving thoughts and kindly deeds.
You will open wide the magic gate;
Happiness will not be late
If you walk the sunlit way
Joy will come, bright as day.
Mark's Gospel chapter 4 contains several parables told by Jesus which feature seeds. The seeds are the message of the kingdom and whilst some seem to fall by the wayside others bear fruit; we are also reminded that the seed grows hidden from view, and we reap the harvest; and finally that the seed might be small when it is planted but it can grow beyond all expectations.
If the seeds we plant are those of loving thoughts and kindly deeds, seeds of hope and joy, seeds of caring and sharing then we will be spreading the message of Jesus in our community – and we may just be surprised at the variety of reactions we get to our seeds.
Let us pray:
Creator God, your love is extravagant and boundless.
You sow seeds of love in our lives and we seek to share your love with others.
Forgive us that sometimes we want to trim and mow
and restrict our seed sowing to keep life neat and tidy.
Help us to share our seeds of love extravagantly and wildly,
sharing the abundance of your love with anyone who encounters the seeds we sow.
Then like the wild flowers we will offer a display of colour
and a source of sustenance
as we share your blessings with those most in need of your love.
Amen.