Co Chair Blog Maggie Woods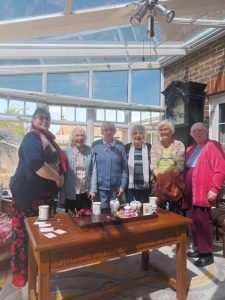 Tea and Hospitality
Recently I spent an enjoyable time in the Bexhill Hastings and Rye Circuit.
I had a meeting over coffee with some ladies interested in the work of MWIB .It was hosted by Revd Crawford Logan who later joined in the dicussions of possible future events It was good to meet up with Pearl and Dawn who were at Swanwick this year.
I was also able to visit the exquisite Winchelsea Chapel .I was driven through the lovely countryside in a top down sports car….very Grace Kelly ….although I looked rather more windswept than glamorous on arrival.
Winchelsea chapel dates back to 1785 and is lovingly cared for and supported by a group "Friends of Winchelsea Methodist Chapel". Inside there are so many interesting photographs and articles that I plan to go back allowing more time to appreciate the exhibits. I was particularly drawn to the replica Wesley Teapot. The original by Josiah Wedgewood apparently held a gallon of tea. It seems the principal of providing tea as a form of church hospitality is nothing new.
It strikes me that the offer of hospitality in a cup of tea is often underestimated. For me it has physical, social, psychological and spiritual aspects. There is the cuppa to rehydrate or refresh us in a very practical way. We also know that conversation flows more easily over a cuppa. It also promotes a feeling of safety and belonging. Providing tea reaches out with riendship and interest. It shows people they have been noticed and their company is important. It is symbolic of Gods love. Care in a cup and love in a mug is what is really on offer.
I also joined in the church anniversary celebrations at Little Common Church who, in true Methodist tradition, provided a lovely bring and share lunch. Who can resist a home made trifle.
For me it was good to meet people , to get a sense of how networks are being rebuilt following the devastation of covid and lockdown and to share how things might move forward for MWIB in this lovely part of the country.