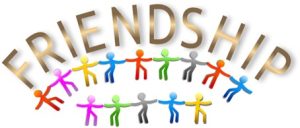 Thinking of this month of the year has brought back memories of Holiday's.  Once School had broken up and I didn't see my friends on a daily basis, it felt quite different and sometimes lonely.  But I used to be allowed to play in the local park or in the street with neighbours and I found different friends for the day.  Sometimes I had to go to Grandma's as Mum and Dad were working, so there I met other neighbour's children so it was different altogether again.  I was fortunate to be able to mix and play with lots of "friends" in different times and places and it makes me think of how lucky I was.  Playing with others is much better than being alone and we used to make up all sorts of games and the hours passed by quickly.  As I got older, I made a new friend who came to stay just down the road from our house with her Grandma and she used to be there for 6 weeks so we became very close and have remained friends for life, sharing things together with each other and becoming pen pals during the term time as we lived Miles apart.   What a difference friends make to us in various walks and terms of our lives.   A constant friend, is of course, Jesus who is ALWAYS with us and we can turn to him for a chat at anytime or just pick up from where we left off.
What a friend we have in Jesus,
all our sins and grieves to bear,
What a privilege to carry
Everything to God in Prayer!
Oh what peace we often forfeit,
O what needless pain we bear
All because we do not carry
Everything to God in prayer.
Loving Father God, we thank you for our Friends that help us through our every day trials and fear sometimes.  We thank you that we can share with them and they share with us.  It is a privilege to have you as our Friend and Saviour and we ask you to bless all those who are lonely and struggle to make friends of any kind.   May they learn about you and find that every day can be a bonus with you in their lives.   AMEN.
Rita Rowe (Area Trustee Lincolnshire & East Anglia)