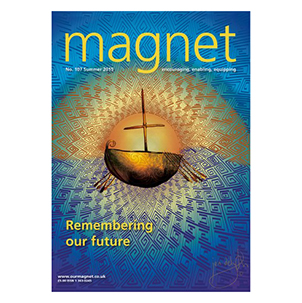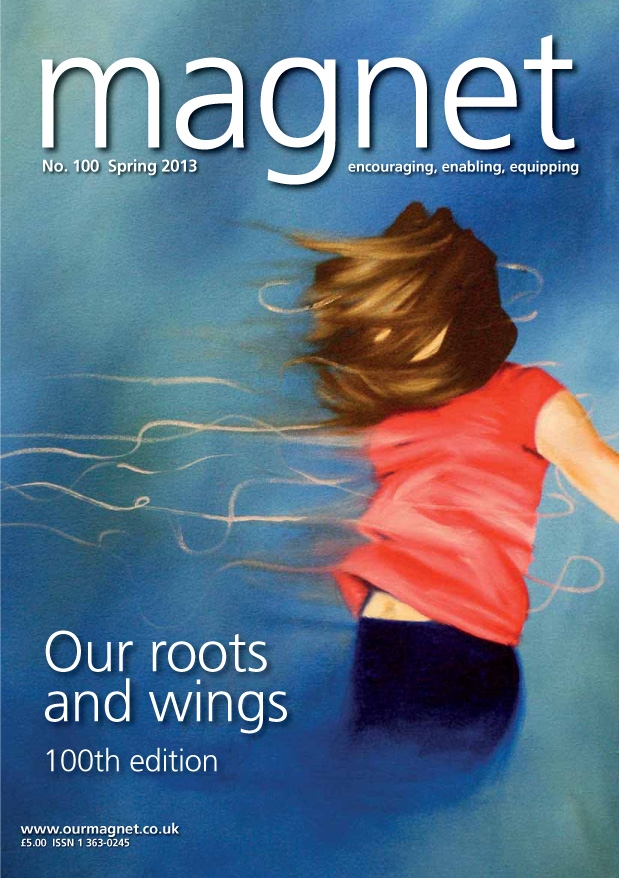 Magnet is an excellent Christian magazine, published three times a year, which has very strong links with Methodist women. As Magnet moves into a new phase of its journey* we as MWiB continue to wish Magnet every possible success and to pledge our ongoing partnership, support, prayer and commitment to the magazine and all involved in its production. Visit the Magnet website for more news and to subscribe.
Don't miss the special 100th edition of Magnet, "Roots and Wings" – publication date: February 2013
NOW ON OUR WEBSITE… an interview between Lynne Ling, Alison Judd and Jill Baker discussing the influence and future of the publication.
Magnet – the next stage of our journey*
* the following information has been supplied by Lynne Ling and was circulated at the end of July 2012 to the MWiB mailing list
Magnet is very proud of its long history as the magazine of the Women's Network of the Methodist Church. We started in 1987 and next February will publish our 100th issue, Roots and Wings, to be guest edited by Stella Bristow and Tricia Graves, both of whom were involved in the earliest issues. As many of you know well, we took Magnet independent in 2009, when the Methodist Connexional team was restructured.
We have been present at all your launch events during this year and contributed to your prayer stations at Methodist Conference this summer, notably the money one on the Monday, where our Just Money issue was freely distributed.
We are proud of what we have achieved in the last three and a half years, all of which were in line with our stated charitable objectives. We have continued to be a model of collaborative working practices. We have run an ethical charitable business. We have continued to encourage and challenge our readers in their personal faith journeys and in the outworking of that faith in the world. We have produced a first class magazine using volunteer editors, who testify to the fun and value of the experience to them. We have begun to make ourselves known more widely and pursued an ecumenical agenda. We have been represented at many events and networked with many potential supporters.
We are now embarking on a new stage of our journey as we join forces with and come under the wing of Hymns Ancient & Modern who will take over publication of Magnet from 1 August. We believe that this is a good move to secure the future of Magnet. We have taken small steps to make Magnet known ecumenically but have not had the resources (funding or people) to do more than scratch the surface. HA&M has a wide and respected reach in Anglican and other circles and our first 'outing' with them will be a presence in their g-books tent at Greenbelt in late August. As the publisher of Church Times, HA&M is a major Greenbelt partner along with The Methodist Church and Christian Aid and this is an exciting opportunity to make Magnet known to the 18,000 people that the festival attracts.
I will remain at the helm of Magnet and oversee the work of the editorial team. I intend to maintain my strong links with MWiB and have a presence at your national events. I am already a member of the working group for the Creativity Day next May in a personal capacity. And equally, Magnet will continue to be a resource for you both personally and in your roles of leading and facilitating worship and groups.
Mark Wakelin, this year's President of the Methodist Conference and a good friend and supporter of both MWiB and Magnet in his role as Connexional Secretary for Internal Relationships, says of us:
"Magnet is a splendid magazine that offers spiritual, practical and thoughtful insights into living the Christian life. Its roots lie in the heart of the Methodist Women's movement, especially the bringing together of Women's Work and Women's Fellowship in the 1980s – and it still has that stimulating combination of outreach in service, and reaching out towards God. The collaborative and volunteer way of working that lies behind each publication gives it a very special feel and 'culture' polished to a high lustre by professional editing and production. I wish the publication all the very best as they embark on their exciting new adventure with Hymns Ancient & Modern."
Dominic Vaughan, CEO of Hymns Ancient and & Modern says:
"Magnet is a fantastic resource and we are very pleased to be able to add this to our prestigious stable of publications. We very much look forward to working with the highly talented teams who have produced such a high quality publication over the last few years."
Subscriptions are £10 per year for three issues and can be ordered by contacting:
Ruth Hunter 01603 785911 ruth.hunter@hymnsam.co.uk
Louise Hickin 01603 785910 louise.hickin@hymnsam.co.uk
13a Hellesdon Park Road, Norwich, NR6 5DR
With my thanks for your ongoing support and pledge of mine for you.