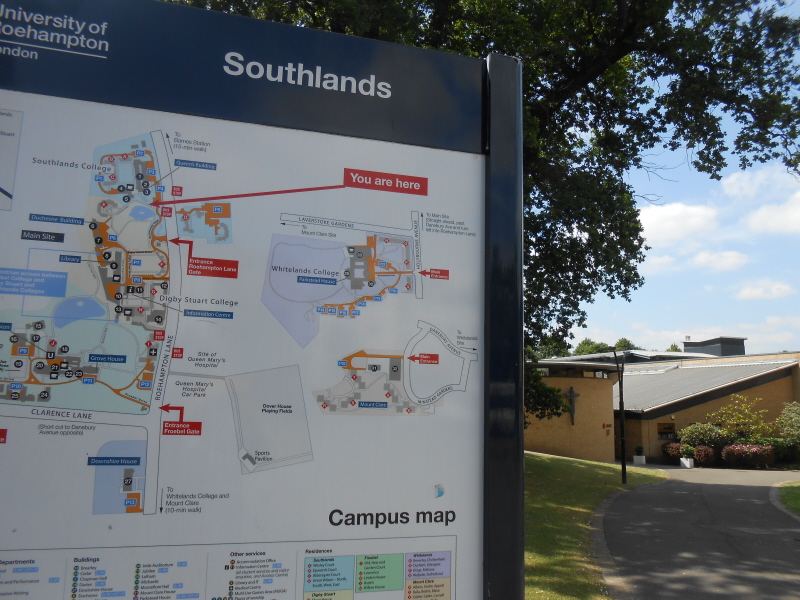 Whilst I had heard of Southlands College over many years, I only caught up with its latest form in recent weeks, when I was invited to take part in this short Conference. The Wesleyan teacher training college for women students founded in 1872 has occupied a number of different sites in southwest London, had a number of different names, and became co-educational in 1965; having moved to its latest site in the 1990s, it is today one of 4 constituent colleges making up the University of Roehampton – one each founded by Methodists, Anglicans, and Catholics and the Humanist Froebel Institute. For more of its history click HERE.
So for any old girls, here is the 2015 campus map, showing the Southlands Methodist Chapel, with its cross just visible, in the background. I had been approached by Sue Miller, formerly of DMLN in the Connexional team, who now leads the work of the newly-established Susanna Wesley Foundation within the University. The Foundation is so new that it has accounts on Facebook and Twitter, but not yet a website of its own. It is a partnership of the Methodist Curch in Britain (through the Southlands Methodist Trust) with the University of Roehampton, and it seeks to "identify, support and promote opportunities for reasearch, enquiry and dialogue around questions of management, leadership and organisation in the context of faith communities and religious institutions."
The event, from lunchtime on Thursday to lunchtime on Friday, was very much a dialogue around the issues of gender and diversity, and the goal of creating an inclusive approach to leadership in the Churches. With about 40 participants seated cafe-style, we heard from academics in business and management, theology and sociology; from Methodists, Anglicans and Catholics; and from heterosexual, gay, lesbian and trans-sexual perspectives. It was a very challenging time, causing me to examine some long-held views on all sorts of topics, giving me so much to think about academically, practically and as an officer of Methodist Women in Britain. My strongest single impression, just a few days on from a very full experience, is that perhaps academia is the best place for such a diverse group of people to listen to each other and to feel accepted. I'm not sure that a similar gathering to this could have been held in the same open, accepting atmosphere within many churches or even in MWiB. There are many ways in which we are not a sufficiently diverse movement.
I thank and salute the University, the Foundation and Sue herself for giving me the opportunity to take part in such a stimulating event. With blessings to all those who shared part of their stories with me so candidly, Linda