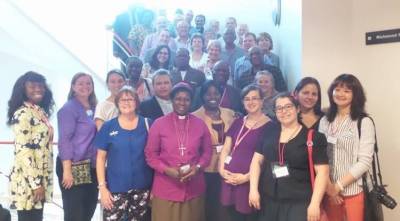 One of the highlights of the past two weeks has undoubtedly been the opportunity to meet so many sisters and brothers in Christ from this country and from other parts of the world church. The photo shows the group who worked together in London last week and at Conference, and I have been pleased to hear from some of them as they arrive home after long journeys back to the places where they live and serve. Apologies that the top row is bathed in rather too much light, but I wanted to include everyone who was present after our communion service at Methodist Church House.
At that service I was introduced, briefly, to Angleena Keizer, a new mission partner who began training in April and will be serving in Sri Lanka, working alongside the English speaking congregation at the Kollupitiya Methodist Church. You may be able to remember her commissioning service tomorrow, 5 July, in your prayers. She flies out to Colombo on Sunday 12 July. You can read more about her and access her latest newsletter through this link:
http://www.methodist.org.uk/mission/world-church/asia-pacific/sri-lanka/angleena-keizer
I am blogging even earlier today. Across the world some will be working, some sleeping, some rejoicing, some mourning…
As o'er each continent and island
The dawn leads on another day,
The voice of prayer is never silent,
Nor dies the strain of praise away.