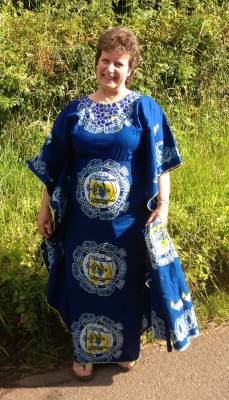 Last Sunday, 5 July 2015, the Women's Fellowship of the Nigerian Methodist Chaplaincy UK held its Inaugural Service at Wesley's Chapel in London. The preacher was His Eminence, Dr Samuel Emeka Kanu Uche, Prelate of the Methodist Church of Nigeria, and his wife, Mrs Florence N Uche, was Joint Host. I had been privileged to meet the Prelate at the Pre-Conference Consultation in London and again at Conference in Southport last week.
Unfortunately I had to decline the invitation to attend this special service, as I was already planned to preach in one of our Devon churches that day, and it would not have been possible to get up to London in time. We were glad that MWiB was represented at the occasion by Deacon Jackie Fowler, President of the London District, and District MWiB Secretary Abby Springer, who conveyed our greetings to the Fellowship. Jackie reported back that "it was a wonderful occasion and I was glad to be there to represent MWiB in the District and Connexionally."
I was absolutely delighted this morning to receive a wonderful and generous gift through the post, which I simply had to show you in today's blog photo. One of the joys for me of being Christian is the way in which we are joined with so many sisters and brothers in Christ, as we serve and worship God together and celebrate His gift of life to us.