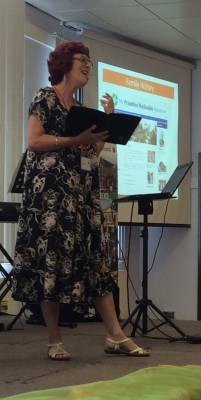 Yet another very full programme here at Cliff College today for the Mission Shaped Heritage Conference. A thread has run through the whole event, and indeed through much of my own reading over the past week – you will not be surprised that it is the challenge to tell our story! If I had a pound for every time a speaker here has used the word 'story' I would be really quite rich!
This morning's speaker was Jill Barber, Vice President of Methodist Conference and the keynote speaker at our MWiB Swanwick residential next April. I am absolutely sure that she will make us think hard, but make us laugh, too. She has helped me to see how important heritage is to mission and I love the way she brings old stories to life, stories about real people, much like us!
It has been a pleasure to spend time, too, with Sarah Braisdell, our researcher. She has done an excellent job in pulling together our story and I look forward to continuing to work with her as we move towards our exhibition at Epworth Old Rectory next spring.