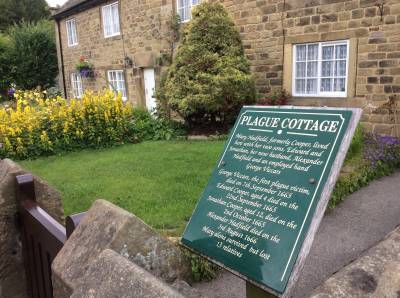 I am writing the blog as I travel home from Derbyshire, after an inspiring but exhausting conference! This afternoon I chose to visit Eyam, the village famous for its remarkable story of selflessness. You probably know the true story – in 1665 a tailor from Eyam ordered a bale of cloth from London to make up into clothes for the villagers, which led to 260 of them dying from bubonic plague. The villagers demonstrated extraordinary self sacrifice by quarantining themselves from the surrounding areas to prevent the disease spreading.
Stories such as this have a tremendous impact. I have written much about story over recent days and that theme has threaded its way through the whole of this Mission Shaped Heritage Conference. I have made copious notes and share with you tonight a phrase which captured my imagination this morning. Our stories need to be 'threaded through with the gold of God's grace'.
My train is almost back to Devon, where I will be glad to catch up with family tonight and sleep in my own bed again. Grateful for new friends and shared stories of the past few days, grateful for old friends and the chance to share stories as we catch up with each other again.