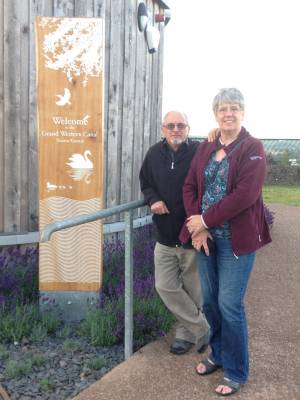 Alison and Les Judd stayed with us last night and were disappointed that the next cow due to calve did not oblige by delivering either during the night or this morning before they departed for South Devon! They were hoping for a bird's eye view! It was good to share a few hours together getting to know each other. Alison will now be able to visualise my kitchen, with its quirky gadget for keeping the fridge door closed. That is a topic for another blog!
Late this morning I caught the train to Paddington and met up with Anne Cresswell, the Forum rep for Cornwall District. Tomorrow we will both be attending the task group to plan the concert with Paul Field and Garth Hewitt to be held at Methodist Central Hall Westminster on Saturday 21 May next year. This will be the culmination of our MWiB work focussing on the issues of caste discrimination for the Dalits. It was good to have lunch with Anne before we headed to the different places where we were each spending the night. It is often better value, and indeed necessary, for those of us from the Westcountry to head up to London the day before meetings, so that we arrive in good time and within budget!
I am staying tonight with a very dear friend who lives in London and it has been an additional blessing to be able to spend time with her, chatting and praying and generally catching up with each other.
So today has afforded three different opportunities to be with friends, eating together, journeying together, offering and receiving hospitality. Hospitality is defined by one source as 'the friendly and generous reception and entertainment of guests, visitors, or strangers.' Another source suggests that the Christian practice of hospitality is the practice of providing a space to take in a stranger. Many people in our world today are in need of that space.
I value being part of a movement which practises hospitality!