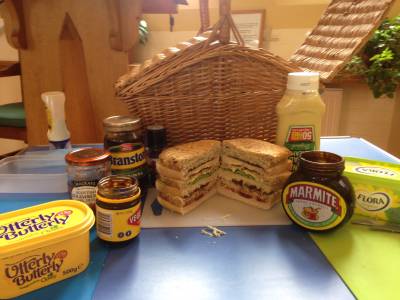 This morning at Wellington Methodist Church we tried to create a sandwich that would suit everyone's tastes! Would you like that on brown bread or white? Pickle with your cheese? Mayonnaise or salad cream or neither? Would you prefer jam or Marmite? Or perhaps Vegemite? With or without lettuce? Salt and pepper?
I never cease to be amazed at how such diverse groups of people can feel called to come together day by day, week by week, to worship, to learn and to serve God as his body the Church. No wonder there are often struggles and disagreements!
Jesus told his first followers that they would be recognised as his disciples by their love for one another. The early Christians at Philippi were encouraged to 'be humble toward one another, always considering others better than yourselves. And look out for one another's interests, not just for your own.'
I have a sneaking suspicion that one day Jesus will ask us what all the fuss was about in our churches over what we sat on and what we sang? Pews or chairs; hymn books or digital projectors; organs or worship bands; traditional or contemporary music? How much time do we spend on those issues, when in fact we are simply called, as the people of God have ever been called, to love God with everything we have and are, and to love others as we love ourselves.
Brown bread or white?