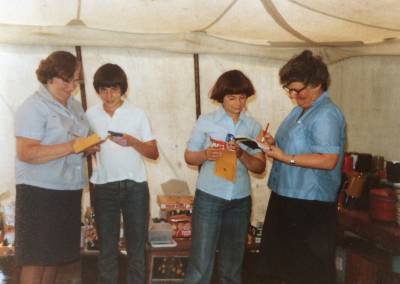 As I was growing up I was allowed to develop many skills through the Church and through Girls' Brigade, as others encouraged me to take a lead in various ways. I am grateful to Joyce and Marjorie, the two leaders from the 1st Thatcham Girls' Brigade company who took me on my first camp to Bossington in Somerset, all those years ago.
They were important companions on my faith journey. I am not at all sure that they enjoyed camping themselves, but they knew that it mattered for the girls in their GB company! I have managed to find this picture of them as I have been sorting through the GB Region 6 camp archives. They were affectionately known as 'Bank' and 'Tuck', because of the roles they held within the team of officers. They are shown here serving two happy customers at the camp tuck shop and debiting their pocket money accounts!
If you have a moment please remember all the Christian camps being held over the summer in your prayers. These camps often provide significant spaces for young people to consider life, the world, the universe – and faith! Let us pray for those who give their time to accompany them on their journey of exploration and, we hope, discovery of faith in God through Christ.