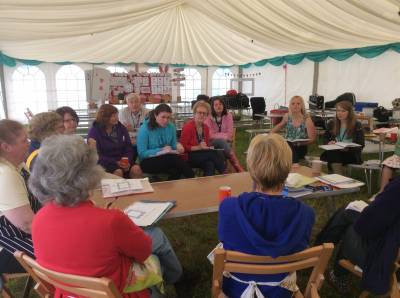 This morning I went up to the Girls' Brigade camp to lead worship for the adults and older teenagers who have come to set up. By this afternoon there will be 72 on site and GBR6 Camp 2015 will be underway. They will follow a holistic programme of activities – physical, educational and spiritual. There will be fun, friendship, laughter and no doubt the odd prank or two! There may also be tears, fallings out and hopefully reconciliation, as those 72 girls and women (and two brave men) learn to live together in close proximity for the coming week!
In their worship and Bible study times the girls will be looking at God's 'Bigger Picture', so to complement that I shall be leading the adults each morning to consider how small things can be important and can make a difference. As we follow Christ, we are called to be salt and light to the world around us, as we seek to love God and love our neighbour in the power of the Holy Spirit.
Girls' Brigade aims to help girls to 'seek, serve and follow Christ'. Methodist Women in Britain aims to 'know Christ and to make him known'. Let us pray for one another, and for the mutuality and interconnectedness of our two movements. We remember, too, holiday clubs run by churches throughout the country, as well as programmes to provide physical food, too.
The photo shows some of the leaders of the Girls' Brigade camp here in Devon as they met to prepare this morning. Ken and I escaped to Exmoor for the afternoon and evening, hence later posting of the blog this evening!