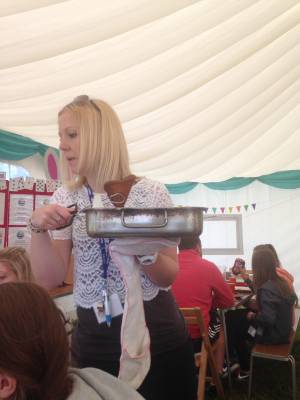 Yes, you did read the title of today's blog correctly! You may know it as French toast, or by some other name, but it is one of the essentials on the camp breakfast menu! I ate with the girls this morning and the conversation around the table was fascinating, as we covered subjects such as how the brain works, how the sense of taste varies from person to person, what to have with eggy bread (ketchup, brown sauce or sugar) and whether there will be eggy bread in heaven? Then followed questions such as "Will we eat in heaven?" and "If we do, will eggy bread be fattening?"
Those of you who are getting to know me will by now have realised that I am passionate about how important hospitality is as we reach out to others in the name of Christ. Jesus was notorious for his presence at places where there was eating and drinking, whether at weddings or picnics or supper parties or beach barbecues. As we sit around meal tables together we share at a very special level with those who eat with us.
Hospitality does not have to be extravagant or competitive. This afternoon I enjoyed a cup of tea and a homemade scone with an ex-colleague at her kitchen table, as we talked and listened to each other and shared our news of the past few months.
In today's photo Sam is sharing out the last of the eggy bread. As we look at that, let us be aware of those children and families, even in our own country, for whom even plain bread is in short supply.