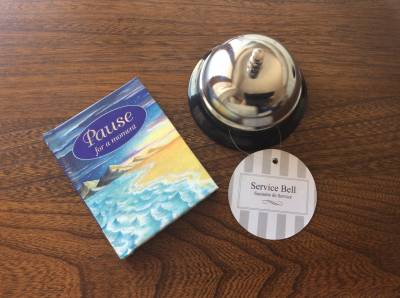 A short, mostly pre-prepared blog today. I am sure that will please those of you who have told me to take things easily! I came home this morning after being wonderfully looked after by hospital staff at all levels and feeling very blessed by assurance of prayers, messages of support and instructions to be sensible about taking time to recover properly.
Both daughters are staying at home in order to be here after my op, and they have taken the opportunity to clear some of the 'stuff' which has accumulated in their rooms over the past few years – books, clothes, unused gifts. Some things are destined for the charity shops, other items have been presented to me, as they think they might come in handy as I recuperate. I particularly like the service bell, but they are a little concerned that I might over use it!
More words from a well-known psalm – The Lord is my shepherd, I lack nothing. He makes me lie down in green pastures….
With love and thanks to strangers, family and friends. Special thanks to Linda, who has been reading my blog in France and pointed out that last night I had dated it 2105! I put that down to 'general anaesthetic brain', but can obviously only use that excuse for a little while longer!