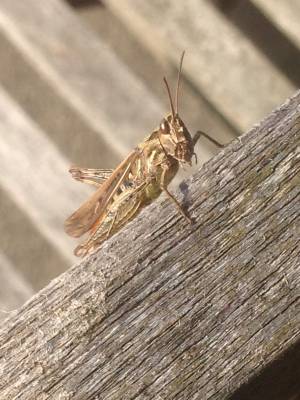 What is this world if, full of care, we have no time…
This morning I opened the doors onto the patio to enjoy the morning sun and found this little creature already on the garden chair. For several moments he (or she) allowed me to take photographs, apparently unperturbed by my presence. I am no photographer, and only used my iPhone, but I have wondered today at the marvel of technology, so instantly to hand. How many of us can remember the days of sending films away to be processed and awaiting the return of photos, many of them in my case coming back out of focus and the subjects unrecognisable?
This morning's encounter with nature also sent me to the Internet to try to ascertain whether this was a cricket or a grasshopper. I am none the wiser, having learned that one has longer antennae than the other. I need the other one here for comparison! Reminds me of the days at school where new pairs of identical twin pupils would join and I would need to see them together before I knew how I would distinguish them by name.
Today twelve Methodist women are preparing to set off on pilgrimage together from Durham to Lindisfarne. I hope to be able to bring you news of their progress throughout the week. Praying that they will each benefit from time to stand and stare and wonder at the intricacy of God's creation.