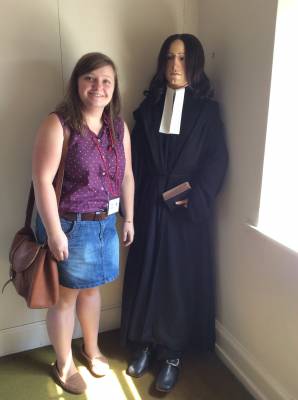 I used to watch a television programme called 'Life Laundry', where people are helped to declutter their homes and lives. Following one episode I had a determined cull of my wardrobe and also took a cap which my husband seldom wore (and I disliked) to the charity shop. It was only a matter of days before youngest daughter came home from primary school, declaring that she wanted to dress as Burglar Bill for World Book Day. I could provide everything – stripy top, swag bag, mask – except for the flat cap. Back to the charity shop!
Over the past year Methodist Women in Britain have been encouraging people to pass on their 'stuff' and their stories to our researcher, Sarah Braisdell, photographed here with Samuel Wesley! Since January she has been sorting through archives and artefacts in preparation for the opening of our exhibition at Epworth Old Rectory, entitled 'Transforming the world from the kitchen: the story of women working together in Methodism'.
Before you all start turning out cupboards and drawers, this is not just 'any stuff'. The artefacts and archives all relate to the task of telling the story of women in Methodism over the generations. Items donated via MWiB are being accessioned into a defined sub-collection of Epworth Old Rectory for permanent preservation and become subject to the care constraints applied to this and any other nationally accredited museum.
More on Sarah's work tomorrow.