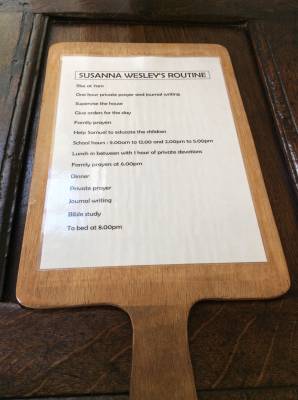 From time to time I hope to use other people's stories in this. blog, so that you do not become tired of only hearing my voice! I asked Sarah Braisdell, our Heritage and Archives researcher, to describe the current MWiB project, 'Transforming the world from the kitchen: the story of women working together in Methodism'.
Sarah writes: "Women have always been proactive in the Methodist story. Susanna Wesley was a major influence on the faith and social responsibility of her family. Three hundred years after Susanna, women make up approximately 67% of the membership of the Methodist Church in Britain and are active in every aspect of church life. No role is closed to women, although by 2014 we have only had four female presidents of Conference, so there is still distance to travel on the road to equality.
As part of this journey, amongst every generation of women in Methodism, there have been those who meet together to find ways of discovering God and of serving the community. From women's meetings in local churches, through regional and national residential events, to international assemblies as part of the worldwide Methodist family, women have always 'done things together' as well as individually.
The MWiB project aims to tell the story of the established women's movements in Methodism, from the very first organisation formed in 1858, latterly known as Women's Work, through to Girls' League, Women's Fellowship, Young Wives, Network and now MWiB. It also aims to link the story of women working together in Methodism back to Susanna Wesley."
We are grateful for the work which Sarah has done on our behalf. The exhibition will open at Epworth Old Rectory on 19 March 2016.