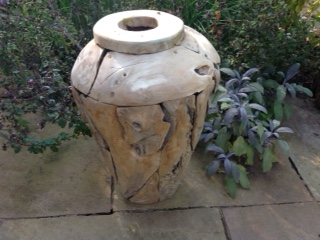 Saviour and Lord of all,
I look at this pot and suddenly I see
That you have saved me
From being lost and wasted.
In this pot,
I can see all the fragments of
Discarded wood
Saved and placed together like a jigsaw
Made into a
Remarkable piece of Art.
It won't hold water,
But it is lovely to look at and it has been
saved from destruction.
Although I have not been cobbled together,
My genes have been inherited
From many different parts of my family
And I am recognisable to them
By familiar looks and expressions.
Yet, what is even more remarkable
I am myself.
Filled with the spark of Life
Which is your gift to all living things:
How amazing it is-
I am unique.
Again, I look at the pot and realise
That it will provide shelter for the tiny
Creatures inhabiting the garden.
A new purpose.
As our lives progress, Saviour,
They too change purpose on occasion;
We look and see you use us differently
And we are
Glad!
Not recycled in the way of the pot,
But offered new opportunities to be
The unique children
You created us to be.
Thanks be to God
For saving us.
Amen Hazel Parsons
Reading: Psalm 139
SthF. 366 Thou hidden source of calm repose