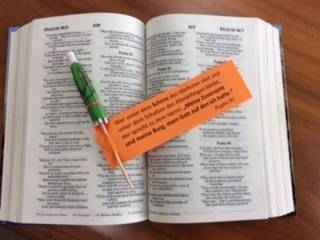 A rather odd blog photo today! A while ago I received mail from Germany, including this rather quirky thing – a cocktail umbrella with a Bible passage speared onto the stick. The verses are from a psalm and refer to a Schirm, which means an umbrella. The word Schirm can also mean shelter or protection, amongst other things.
I was sitting with my breakfast in the conservatory this morning, where the table is littered with things to be sorted and tidied, when I saw the little umbrella and read the verses properly. It is not just a verse from 'any psalm', but from Psalm 91, which has become significant for me on several occasions recently. Now here it was again, and so I went back to the Bible and reread it.
I leave you with these opening verses of a psalm which has been a source of strength to many people over centuries, rendered here both in German and in English.
Wer unter dem Schirm des Höchsten sitzt und unter dem Schatten des Allmächtigen bleibt, der spricht zu dem Herrn: "Meine Zuversicht und meine Burg, mein Gott auf den ich hoffe."
He who dwells in the shelter of the Most High will rest in the shadow of the Almighty. I will say of the Lord, "He is my refuge and my fortress, my God, in whom I trust."
(Psalm 91, verses 1 and 2)