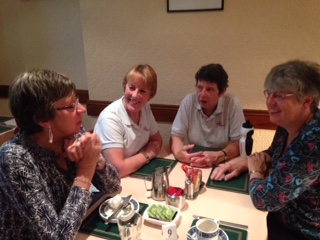 It has been a long but productive day, as the MWiB executive officers have met at Methodist Church House, ably supported by our minute taker. The photo was taken at the end of breakfast this morning, as we prepared to travel from Highbury to our meeting. We had a delayed start due to transport problems, but still managed to get through a lengthy agenda by 5pm before heading back home on our various trains.
It was good to see some of the World Church Relations team and to share ideas and plans together with them. We discussed how we might respond to the current refugee and migrant situation, especially since my visit to Germany had highlighted the issue to me very starkly.
Our key word today was the word 'succinct'! I am grateful that we managed to remain disciplined and refrain from sharing too many anecdotes, and that we worked so effectively together as a team to complete our task. It remains a privilege for me to have been given the opportunity to serve and learn from the wider church in this way, even though I still smile when I think how God has moved me from one setting to another at this stage in my life!