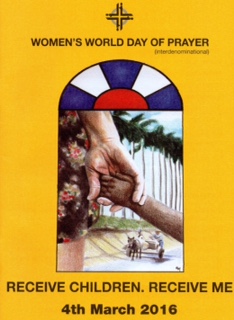 I said a while ago that I had asked several people if they would be prepared to share a particular part of their own story. Liz Burroughs is the representative of the Methodist Church on the Women's World Day of Prayer National Committee for England, Wales and Northern Ireland. She has written for us as follows:
"On Tuesday 13th October I shall be driving from St Austell to Bournemouth to take part in my first Preparation Day of the new season. Over the next five weeks I shall be travelling to places as far apart as Newquay in Cornwall, Prestatyn in North Wales and Cambridge.
Every year, members of the Committee take part in more than 60 preparation days or mornings all over the area. We study the background to the country which has written the service – in 2016 it is Cuba – discuss the Bible passage used and look at the service they have written.
It's a lot of travelling but I do enjoy Preparation Days: they are a great opportunity to meet people, to exchange ideas about how we can make our services on Women's World Day of Prayer really inspiring occasions for all who attend and to share my enthusiasm for being part of this huge wave of prayer that envelops the world every year on the first Friday in March.
So, if you have a chance to get to a Preparation Day, take my advice – grab it! A full list can be found in our magazine, Together in Prayer, or on our website."