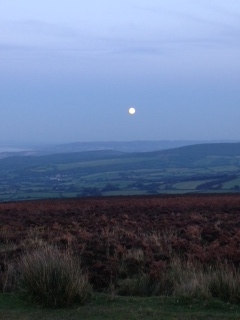 I am privileged to live close to both Exmoor and Dartmoor, and over the last three days I have enjoyed both in different ways.
On Sunday Ken and I set off after church onto Exmoor. From the village of Winsford we walked up onto the moor in glorious sunshine. In the evening we drove up to Dunkery Beacon and enjoyed the expansive views across to Wales, as well as a clear sighting of the much acclaimed harvest moon, a few hours before the lunar eclipse. I have chosen a photo of that evening sky for the blog tonight.
Today I drove down the A30 to Lifton Down and spent a couple of hours with Anne Cresswell, the MWiB Forum rep for Cornwall. We sat outside for coffee and for lunch and our conversation ranged over many topics. The journey for each of us was exactly one hour and I think we both appreciated our travelling as well as our meeting time. I could see Dartmoor in the distance, which evoked memories of many Sunday afternoons spent at Okehampton Army Camp as we waited, in all weathers, for our school teams to return from the Ten Tors Challenge.
Yesterday morning I returned to my former school to assess GCSE French speaking candidates. As ever I enjoyed the company of former colleagues and students, but it was salutary to recognise that the school is no longer 'mine' and that I have moved on from a daily routine, and a community, which was integral for a very long part of my adult life.
From the old we travel to the new… #feelingreflective