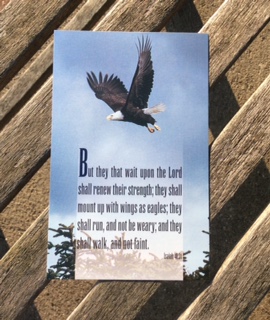 We have had yet another day of unbroken sunshine here, and it is October! I have often written glibly about how sunshine lifts my spirits, but today I have been very aware of the fact that for many people, for diverse reasons, it seems almost wrong that the sun can possibly continue to shine when their lives feel cold and dark. The valley of the shadow of death is a difficult and dark place through which to walk. Today especially our thoughts and prayers are with those people affected by yet another shooting in the United States.
This morning the post came and brought this card from a very dear friend who is currently facing health issues and the challenge of sometimes quite unpleasant treatment. Yet still she thinks of others, and prays for them, and sends encouraging messages.
I wrote last week about the first verses of Psalm 91. Verse 4 in the New International Version begins like this:
"He will cover you with his feathers, and under his wings you will find refuge…"
Carrying, covering – mixed metaphors, but somehow comforting on uncertain days, even if the sun is shining.