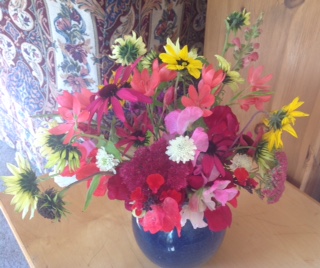 As you may know, Hazel Parsons writes our Prayer for the Week. A while ago I used a photo of her front garden on this blog. As she has been 'putting the garden to bed' she has taken this photo and written a piece for us. I share her reflection here today.
"Sometimes I am awed and amazed by the variety of blossoms in the garden during October.
I go outside intending to try to put everything to bed and make it nice and cosy before the winter storms wreak havoc, only to find that there is still so much colour and blossom everywhere.
This glowing bunch came about simply because I was saving a few left over sunflowers before clearing away. I then selected a few sweet peas and just kept adding to the bunch in my hand. I wonder how many varieties you can see?
What does it say to us, I wonder?
Well, for me, it speaks of the fact that only too often we are tempted to write people off as frail or getting a bit old when actually there is a lot of life left. 'Buds' keep appearing- new gifts, and those buds blossom into a variety of skills and opportunities which make all the difference both at home, locally and all too frequently in the wider world.
I garden because it is a constant source of surprise and encouragement, but my main garden is in the front where people can smile and feel uplifted by the glorious colours our Creator has offered us. Yet in the depths of winter I am constantly humbled by the audacity of a late rose, the appearance of a very early primrose and the wonderful promise of the first snowdrops. They are reminders that in the dark and cold hope is ever present.
As you glory in the autumn colours remember that the leaves will eventually turn into good compost!"