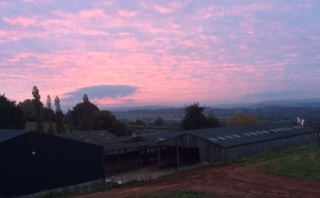 I travelled back from the Forum meeting by train, a very crowded train, with people sleeping in the luggage racks! Deborah and I were glad that we had reserved our seats in advance and did not have to join the luggage rack passengers!
Today has been a day of following up some of the decisions taken at the meeting. I have also prepared opening worship for the World Federation Day next Saturday in Northampton, where we will review the progress made towards the Millennium Development Goals and look ahead to the Sustainable Development Goals.
I have chosen various hymns, but one is a particular favourite of mine, by Fred Pratt Green. It challenges me, every time I sing it, to recognise the responsibility each of us holds, as stewards of God's creation.
God in His love for us lent us this planet,
Gave it a purpose in time and in space:
Small as a spark from the fire of creation,
Cradle of life and the home of our race.
I could not resist photographing the morning sky today. Thanks be to God for its bounty and beauty…