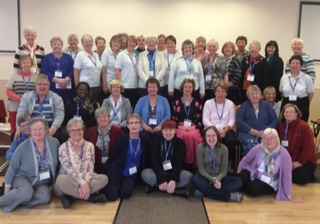 We have survived the first full day of MWiB Connexional Forum here at Swanwick. Some members have kept us abreast of the progress of the rugby and the cricket in our tea and coffee breaks, but our focus has, of course, been mainly on the business of the movement! This has ranged widely over a wealth of issues and has covered many aspects of creative spirituality and global social justice. We have tried, like Methodist Conference, to set our business 'in the context of worship' and to remain aware of the fact that our aim in all that we undertake is 'to know Christ and to make him known'.
Of course there are advantages to coming away to a place like The Hayes Conference Centre here in Swanwick – it is not all about hard work. We have enjoyed the hospitaity of the staff, the comfort of our rooms and the luxury of not having to prepare meals or clear them away!
Again, as we sleep in warm beds tonight and look forward to breakfast in the morning, we remember those whose night will be cold and for whom the prospect of bread on the table, let alone a full English breakfast, is a vain hope.
I shall post the next blog on Monday, when I am back in Devon.