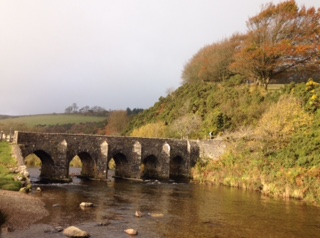 Yesterday I had been invited to preach at South Molton Methodist Church, a circuit service in the morning and a women's fellowship anniversary in the evening. It was special to renew some (very) old friendships and acquaintances and to meet new people. I did not so much preach sermons as share stories, some of them mine, some of them other people's, and after the services people shared snippets of their stories with me and, I hope, with each other.
Evangelism can be a big, scary word on our church meeting agenda. And yet what if evangelism is seen as sharing our story, woven through with the threads of God's presence with us? Sharing our story of sensing that Jesus walks beside us, sometimes recognised, sometimes unrecognised until we look back? Sharing our story of how, somehow, we know the extraordinarily comforting, strengthening presence of the Holy Spirit in our very ordinary lives?
Praying for special friends at the beginning of a new week, and wondering how each of our stories will unfold…
In between yesterday's services Ken and I escaped to nearby Exmoor and revisited Landacre Bridge and memories of summer picnics, and paddling and fishing for minnows in the river when the children were small.