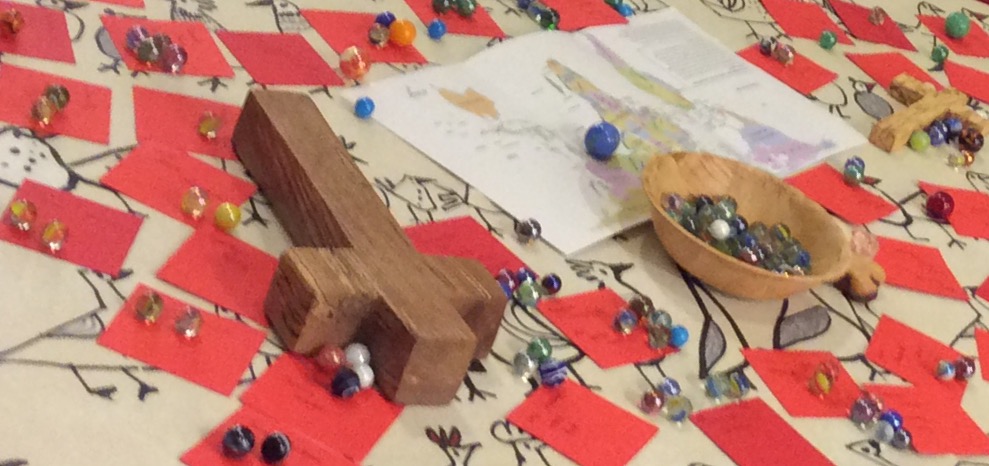 I want to try to explain today how we 'prayed with marbles' last night. Every couple of months we get together to pray and we have the names of our church family, whether they come every week or just occasionally, written on cards that we share out amongst the group. Last night we spent a while praying silently for the people on our cards, taking a marble for each of them, or perhaps one for a family or a group. Eventually we placed our marbles on the table and some of us prayed aloud.
At first the marbles made some of us giggle, as they rolled away, or slipped through our fingers. There was laughter in the midst of the prayers, as people wondered why we had chosen a particular marble for a particular person. But by the end there were tears, as we prayed for people carrying heavy burdens which they may always have to bear.
The tablecloths were on the tables ready for today's coffee morning, hence the chicken design! It felt somehow very appropriate to be praying for our world in the midst of the setting for a community event. And as I said, next door our local Amnesty International group was meeting, hosted by one of our church members.
I am off to Epworth this afternoon for two days of meetings at the Old Rectory. I look forward to sharing news of that on my return at the end of the week. Facebook users and Twitter followers may get to see a few photos before I am able to load the next blog!
Blessings, Anne