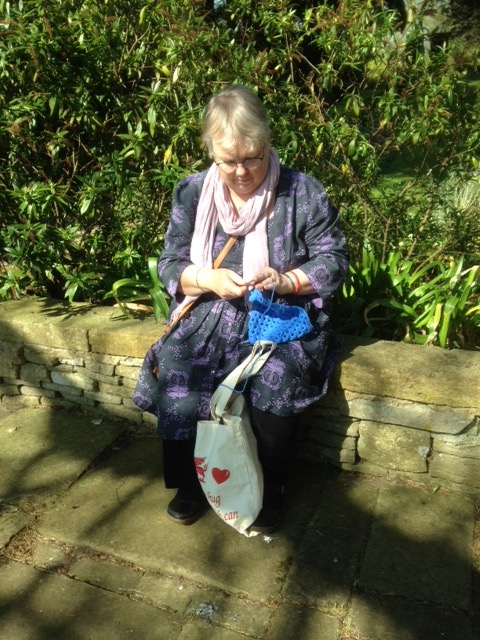 I have blogged previously about installations which help us to appreciate the numbers of lives affected by some of the events of history. The 888,246 ceramic poppies displayed at the Tower of London in 2014 represented British military fatalities during the First World War. The 2,711 rectangular blocks of concrete at the Holocaust Memorial in Berlin represent the Jewish victims of the Nazi genocide of World War II.
Such installations attempt to help us to understand large numbers, to 'get our heads around' statistics which are difficult to comprehend. This idea of imagining large numbers of people has been with me ever since last Saturday, when I met Jackie at the Reflective Day at Holland House. She is pictured here crocheting a blanket in trebles, a crochet stitch which will be familiar to those of you who crochet!
Jackie explained to me about Sixty Million Trebles, which I will attempt to introduce to you, with the aid of some information from their website. They can be found on Facebook for those of you who use that form of social media, and also on Twitter.
At the end of 2015 the United Nations estimated that there are approximately 60 million refugees worldwide. That's like the population of the UK being without a home. The objective of the group 'Sixty Million Trebles' is to create a yarn blanket containing 60 million trebles to represent the 60 million refugees. #onestitchonelife
This project may be something which interests you. Later this week I will also share Barbara Glasson's challenge to 'knit a bridge'. Details and instructions to follow for those of you who knit!