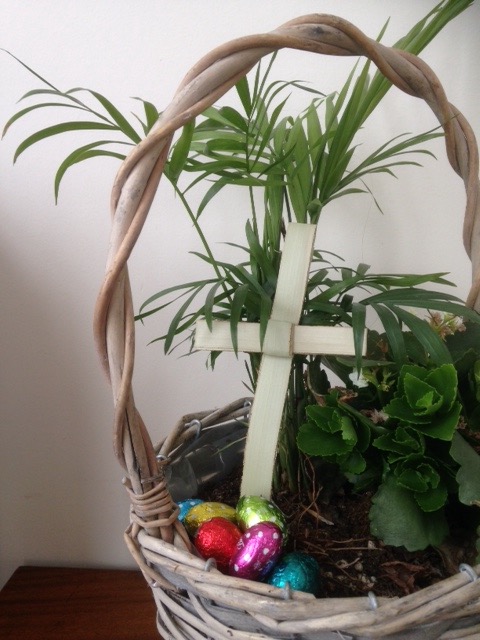 An odd still life picture this morning. I have no appropriate photo for the blog today, Good Friday 2017, so have gathered together some of the things which have accumulated here in recent days. A palm-like plant, given to me at Christmas; the palm cross which Margaret Gardner brought back from her recent visit to The Gambia; chocolate eggs brought over by our German guests to Swanwick.
Last Sunday we remembered the crowds who welcomed Jesus into Jerusalem with waving palms and shouts of "Hosanna!" Today we shall imagine many of those same people, caught up in the cries of "Crucify him!"
Today, in our rural Devon setting, we shall remember the events of Good Friday as we climb a hill behind the village, carrying a heavy wooden cross to leave at the top. On Sunday morning there will be the opportunity to return to the top of the same hill to celebrate the mystery of resurrection, of a stone rolled away, sometimes celebrated by the rolling of eggs down hillsides.
Our traditions have developed over the years. I wonder how you will mark the events of this momentous week in history in your community? I am sure that our thoughts today and this weekend will also be with those who are unable to mark their tradition and faith as publicly as most of us have the freedom to do here.
Chris and Sandra are five hours behind us, so as we climb our hill here they will be commencing their day in Bolivia. I received this update from Sandra last night:
"Chris has felt a lot better today although still feeling a little 'spaced out'. We had a relaxing morning before going out to lunch with Wilson. He recommended various Bolivian dishes which were delicious. The restaurant owners have a simple but effective system here. If you can't finish your meal they will pack it into a container so that you can give it away to those who sit in the streets! It was truly wonderful to see the children's faces light up when we handed it to them.
After lunch we toured La Paz on 'The Little Red Bus'. It's an amazing city of contrasts and hopefully we'll have some pictures to share. Our work starts in earnest tomorrow at 05.45am, when Bishop Mamani will arrive to take us to visit some of their more rural communities. More about that on Saturday.
Thank you for all your prayers. We are feeling really privileged to be sharing our time and faith with such wonderfully hospitable people."